Underworld: Awakening (2012)
Review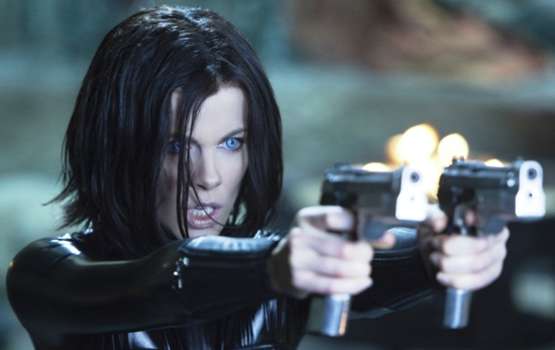 Kate Beckinsale is back…and ready to cash her paycheck. After skipping the third installment for bigger and brighter Tinseltown pastures (besides, Rise of the Lycans was a prequel), the rent has come due and the wannabe A-list actress has returned to the franchise that made her a skin tight leather clad fanboy fantasy. Again, she is playing preeminent paranormal Death Dealer Selene, a vampire huntress out to destroy her sworn enemy – werewolves…or lycans..or whatever the story is calling them now. Over the course of three flaccid films, we've seen familial tragedy, conspiratorial double crossing, something called 'The Elders,' gloomy Goth imagery, and enough slow motion action scenes to make The Matrix's bullet time seem like a revved up Benny Hill burlesque…complete with a futuristic cover of "Yakety Sax." Part four changes very little.

Awakening does bring humans into the mix, marking the exact moment when this series when from dopey to desperate. Selene has been quick frozen for a dozen years while man has discovered her creature's features and declared martial law. Hoping to escape the diabolical plans of a mad scientist named Dr. Jacob Lane (Stephen Rea) who, as usual, has his own secret to protect, she breaks out of her captivity – and into a new clash with those who would eliminate her kind with extreme prejudice. Along for the slog are a couple of companions – a stud muffin neckbiter named David (Theo James) and a mutant child (India Eisley) with a very personal connection to our heroine (who may also hold the key to a final resolution to the ongoing supernatural war). Naturally, Selene must confront those who held her captive and settle all scores once and for all.
If all you care about is dark, dimly lit 3D landscaped filled with CG weaponry, an equally amount of computer aided stunt work, and some splashy blood and guts, then Underworld: Awakening will fill your generic gorehound needs quite nicely. While not a complete splatterfest, there's enough arterial spray to paint at least part of the screen bright red. With Beckinsale back and a more 'us vs. them' narrative design in place, directors Måns Mårlind and Björn Stein amplify the action while ignoring most of the muddle mythology surrounding this monster mash-up, and as long as they stay on the side of thrills, the movie kind of works. We enjoy watching the characters defy gravity (and logic) so that they can smite their enemies with furious vengeance while trying to rewrite the rules of fisticuff physics.
But as anything other than a diversion, Underworld: Awakening fails. The first film tried to set up the whole war of the immortals while Evolution opened up the storyline, character and context wise. Needing somewhere new to go, the inclusion of humans and the whole hybrid angle does little to truly legitimize this installment's existence. Instead, the producers are clearly betting on a returning hottie and the sometimes insane Swedish splashes of its unknown filmmakers. They even don't mind that a few of the original cast – Michael Sheen, Bill Nighy, Scott Speedman – don't show up this time around. All they want is Kate and a few clever setpieces. They get both, basically.
Indeed, what's most amazing about Underworld: Awakening is that there is still a demand for its by now passé parameters. Quick – when you think about vampires battling werewolves, you envision Edward, Bella, and the whole Twilight gang going gooey for the spinster crowd, right? Not some video game inspired shoot-'em-up where everyone snarls their professionally bleached teeth and dresses in Fashions by Hellraiser's Pinhead. Though it's only been around since 2003, it looks like the Underworld franchise is well past its sell-by date. Awakenings confirms its life support status.