Review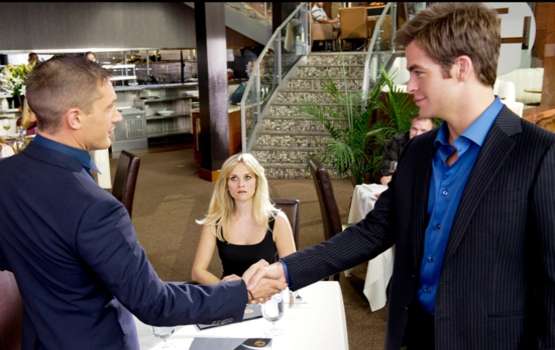 The romantic comedy suffers from its own self-created struggles. Back when Woody Allen and Albert Brooks were lamenting the state of dating and relationships, the genre was smart and acerbic — perhaps, to its detriment. Now, the rotten RomCom is nothing more than an excuse to put the present pixie of the hour in a baffling combination of cornball dialogue and insulting slapstick, all to teach women that men are pigs and…well, that's about it. Unless someone comes along to offer an influx of originality, it's all doomed to go the way of silents and Katherine Heigl's career.
Enter the unnecessarily abbreviated McG, who along with stars Reese Witherspoon, Thomas Hardy, and Chris Pine, hopes to turn This Mean War into the perfect date dynamic. Positioned as a chick flick that even guys can love, the story centers around two childhood best friends — CIA agents Tuck (Hardy) and FDR (Pine). After failing to capture an international criminal named Heinrich (Til Schweiger) the duo are put on suspension by their no-nonsense boss (Angela Bassett). This allows them to pursue more personal matters, which in this case means dating. While Tuck is still nursing a wounded heart for his lovely ex-wife (Abigail Spencer) and son, FDR just wants a girl he can…relate to.
Both of their lovelorn paths lead to consumer product tester Lauren Scott (Witherspoon). Fun, but unable to find a lasting relationship, she is shanghaied into an online dating profile by her married busybody buddy Trish (Chelsea Handler). At first, just Tuck takes a shine to Lauren. Then FDR does as well. Hoping to outwit the other and win the girl, they use all of their counterespionage and spy skills to gain an advantage. Soon, this unlikely trio are tripping over each other, the guys trying to figure out who, if either, Lauren will like more. Naturally, an old vendetta comes back to haunt them all as Heinrich wants revenge, and will stop at nothing — including an innocent young woman — to get it.
Spry, if a bit specious, and absolutely desperate to win you over, This Means War is a good start in the battle to rehabilitate the sagging will-they-or-won't-they entertainment ideal. Sure, it goes a bit overboard on the non-erotic male bonding and turns its female star into a combination of ditz and mathematical calculation, but in the end, the laughs are solid and the sentiments sincere. Among the tricky triumvirate, Hardy comes out the best. He's lucky enough to have the decent dude role, in contrast to the cocky jerk boy moves required of Pine. Tuck seems like the kind of partner who'd offer to hold your hand while you're sad, or suffering. FDR is just libido locked in a smarmy stud demeanor.
Both play well off of Witherspoon and have good chemistry in couplets. But our female lead is the weakest link here, a cipher sucked lifeless by the same old shtick. After all, Lauren only accepts her friend's human Hail Mary after seeing her ex with someone else. Again, no rhyme or reason to such desperation — just a high dive directly into eHarmony hijinx. Besides, Ms. Witherspoon herself looks thin and gaunt, given over to the unnecessary belief that contemporary beauty derives from a diet of less than 700 calories a day. Instead of inspiring desire, one fears for her health.
Still, none of this takes away from the film's goofy charms. The interaction and byplay between these mega-stars is enough to keep even the most miserable mainstream audience member happy. While critics will complain about how vapid and vacant it is, that's part and parcel for the genre. The RomCom needs help. This Means War may not save it, but it won't destroy it either.