The Cabin in the Woods (2012)
Review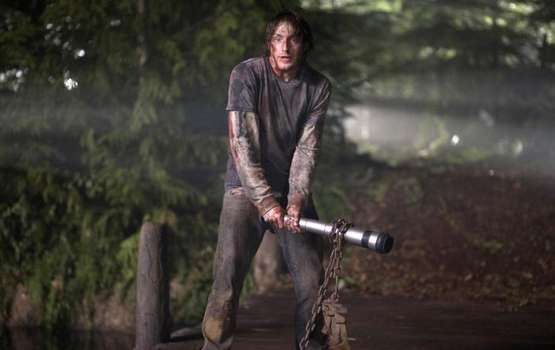 When a film has been shelved for any significant time, it's usually a bad sign. Studios don't usually sit on material they believe will make them money. So when the Josh Whedon/Drew Goddard collaboration The Cabin in the Woods went from next big dread epic to casualty of the MGM bankruptcy, fans feared the worst. Well, worry no longer, lovers of all things monster and macabre. This brilliant deconstruction of the genre, presented as both a revitalization and a critique of same, shows what intelligence and invention can bring to the otherwise middling scary movie. Though it's unconventional in many ways, it also embraces the very things that made many of us love horror in the first place.
A group of young adults — the whorish Jules (Anna Hutchinson), her jock boyfriend Curt (Chris Hemsworth), their virginal pal Dana (Kristen Connolly), stoner buddy Marty (Fran Kranz), and a newcomer to the clique, Holden (Jesse Williams) — decide to take some time off from college and spend the weekend partying at a remote cabin in the woods. Little do they know that they will become part of an experiment run by a couple of buttoned-down bureaucrats (Richard Jenkins and Bradley Whitford), the purpose of which has roots in ancient rituals. As the 'characters' in this remote location start dying off, one by one, at the hands of some hideous zombies, no one quite understands what is happening. When the truth is finally revealed, it's beyond shocking.
The Cabin in the Woods is the cinematic equivalent of a fright film geek's goofiest free associations. It's a terrific puzzle box that just gets better and better as the narrative twists and turns. While the ads have given away much of the premise (our leads are indeed part of some surreal controlled sacrifice), they have kept the main plot twist — and the sensational last act — a secret. Now, the cynical should be warned. It is a make or break kind of denouement, a revelation that will have you either smiling with glee or groaning with displeasure. Of course, Whedon and Goddard understand this, and offer a set-piece that brings together every great franchise reference they can with enough blood to satisfy even the biggest gorehound.
But there is more to this movie that body parts and slasher cliches. Because they are both steeped in the mythology of monster movies, because each has excelled in taking the old formulas and reconfiguring them for a post-modern generation, Whedon and Goddard are like the Tarantinos of terror. The Cabin in the Woods is loaded with in-jokes, some obvious (the outright homage to Evil Dead), some buried beneath obvious rights issues and studio restrictions (love the Hellraiser shout out, however). They also understand the needs of the seasoned horror movie buff, using a Scream-like acknowledgement of the format's flaws before tweaking them enough create a kind of self-fulfilling satire.
This is indeed a very funny film. We laugh at the cruel way our overseers react to what has happened (the death pool idea is hilarious) as well as our own personal recognition of what was clearly a youth spent in front of one too many direct-to-video chillers. About the only thing missing is legitimate shivers – and one imagines that this is exactly how Whedon and Goddard would want it. In fact, nothing about The Cabin in the Woods stays strictly within the preset motion picture mandates. If two years on the shelf results in something this fun and refreshing, then all movies should be left to age. This one has matured magnificently.