The Best Exotic Marigold Hotel (2012)
Review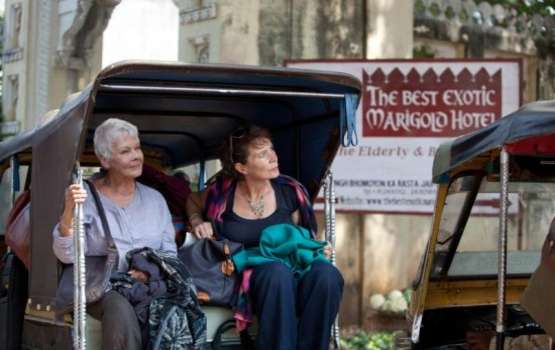 It's familiar fish-out-of-water meets nutty oldsters in the latest from Shakespeare in Love's John Madden. The premise finds British pensioners of all archetypical makes escaping to India because it's cheap and unusual. Hopefully, in the far off mystical East, they won't be treated like government/social/familial burdens. Our collective includes a man who was raised in "the Colony" (Tom Wilkinson), a widow trying to jump start a new life (Judi Dench), a couple (Bill Nighy and Penelope Wilton) whose marriage is crumbling, a pair of sexed-up singles (Celia Imrie and Ronald Pickup) and an elderly matron (Maggie Smith) in desperate need of some important medical care. They all end up in Dev Patel's rundown excuse for holiday lodging, a place where the phones don't work, there are no doors, and the dirty, grimy accommodations are less than inviting.
Everything's in place for a collection of cultural misunderstandings, laugh-along life lessons, and an eventual meeting of the ethnic minds. If you think it sounds familiar and you've seen something like it before, you'd be right. The Best Exotic Marigold Hotel comes from that recognizable school of eccentric English dramedies where expert actors and a simplistic premise lead to emotional epiphanies and showpiece performances. For Dench, it's dealing with the debt-ridden legacy left by her dead husband. For Wilkinson, it's leaving the High Court bench and facing a secret he's kept from everyone. Nighy and Wilton went broke supporting their daughter's entrepreneurial dreams, while Imrie and Pickup just wanna have some late in life fun. Only Smith seems under-served, her racist character and physical circumstance (a hip replacement) having none of the insight offered by the other relocated retirees.
As for those in the sweltering land of spice and saris, Patel is in way over his cliche-created head. His mother wants him to give up this foolish dream of reestablishing his late father's inn. She's also pushing for an arranged marriage, frowning on his current, contemporary minded gal pal (Tena Desea). Since the entire subtext of the film is about taking risks and roaming outside your established comfort zone, everyone here is going to experiment and explore. Long established mindsets will shift and broken commitments will implode and then reluctantly reestablish. Some of the surprises are obvious. Others sneak up on you in ways that work beyond your cynicism and directly into your heart. There's no denying The Best Exotic Marigold Hotel's effectiveness. It's reason for being, on the other hand…
Unlike Slumdog Millionaire, which used a familiarized format (a game show) to clue us into the cultural intricacies of its unusual locale, this film has little to say about India itself. Sure, the cinematography and vistas look inviting, but we get none of the details. Instead, the broadest of brush strokes are used to paint everything, both comically and dramatically. Even the individual issues involved are easily worked out with a few words of wisdom or a sudden preplanned plot manipulation. But thanks to the uniform excellence of the cast, as well as the mountain of inferred meaning they bring to the proceedings, we buy what The Best Exotic Marigold Hotel is selling. It may be overly sentimental and pat, but it's still disarming and entertaining.
As long as you can overcome the obvious familiarity within the film's foundation and if you can get lost in the excellent performances and individual moments, this movie will win you over. The Best Exotic Marigold Hotel may not be capable of living up to every word in the title, but it does make for one engaging escape, no matter your age.