Review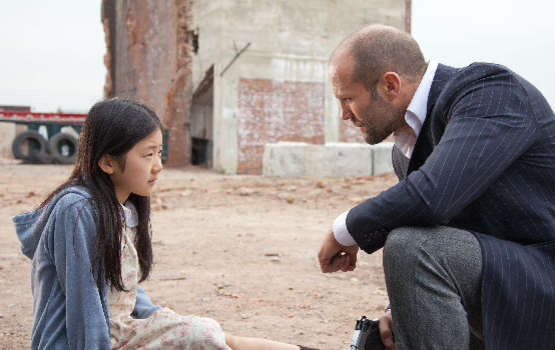 Jason Statham is no longer an actor. He's a brand, a beefed up icon of steely action who tends to rise above the ridiculous scripts he agrees on to become a buff human adrenal gland. He's the Hulk minus the massive roid rage outbursts, a model made out of sinew and sharp, angular cuts. Seeing his name on the marquee guarantees something — a proficient amount of butt kicking, an abundance of bad-ass attitude, an occasional lapse into narrative illogic (or three). Luckily, Safe excels at all three, turning a could-have-been dud into a late Spring delight.
You know this movie understands its star when it provides not one…not two…but three different villainous groups to muck up his otherwise melancholy day. Statham is Luke Wright, a former cop turned cage fighter who's still processing the loss of his family (his pregnant wife was killed by Russian mobsters). Into his down-on-its luck life runs little Mei (Catherine Chan), an Asian prodigy with a photographic memory. Forced by the Chinese mafia to use her skills to help hide their money, the information in her head could bring down not only Manhattan's main organized crime rings, but the NYC police — led by corrupt Captain Wolf (Robert John Burke) — and the Mayor (Chris Sarandon). Soon, Luke is battling all the city's baddies to keep Mei…well, you know the title.
Safe is a like the hot fudge sundae you'd order off a typical diner menu. No sprinkles. No fancy whipped cream. No wet nuts. Just tons and tons of guilty pleasure vanilla ice cream violence and molten hot layers of luscious, intoxicating chocolate chutzpah. It's a bare bones B-movie pumped up with post modern techniques. It's immediate and brutal, bouncing off the screen as efficiently as its star's fists fly off faces. There is something soothing about seeing Statham in such familiar, flashpoint territory. He's not above shedding a tear, and gets nauseous after wiping out a few dozen hoodlums, but for the most part, he is an effective mayhem machine unleashed in a gritty noir NYC. None who oppose him stand a chance, and we wouldn't want it any other way.
For writer/director Boaz Yakin, this is a creative upgrade. His previous films (Remember the Titans, Uptown Girls) didn't prepare us for such chaos. Sure, he stumbles a bit in bringing his chase scenes and choreographed fights to film, but there's an energy and electricity that's been lacking in many of his, and Statham's, recent turns. Safe is significantly more fun that Killer Elite, or that Mechanic remake. Granted, Yakin's script packs too much into too little time (this movie feels overstuffed at 90-plus minutes) and Miss Chan is not the most expressive actress in the child star biz, but for the most part, these are minor quibbles. Safe is the kind of exciting escapist fare that used to make the rounds at the nation's numerous drive-ins. It's like a refugee from the '70s time traveling to our new post-millennial medium — and taking no prisoners.
For his part, Statham stays secure in his place as the foremost British beat-down artist, his skill set and sandpaper stubble more than intact. If you're looking for something to satisfy your constant craving for pummelings and prolonged kung fu-inspired clashes, this is your cup of manic machismo. As a clever commercial ploy, as the byproduct of looks, build, and smart business management, this specific star has secured his place in the annals of action moviedom. Safe may not be as bugnuts insane as the Crank films, but it does pack a similar wallop. While Yakin can claim some of the success, the true triumph is all Statham's.