Review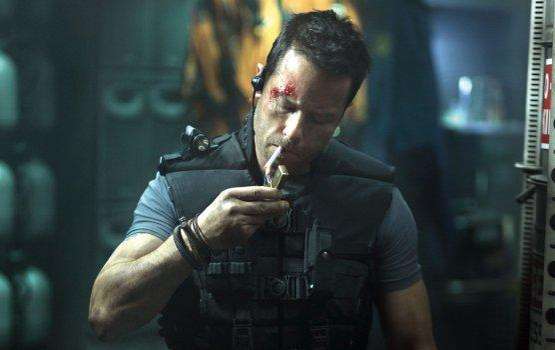 John Carpenter needs to have his head examined. The reason? French film factory Luc Besson clearly has an idea bug planted in the horror maestro's brain. With Lockout, the latest from the man responsible for numerous flash-trash action efforts, the logical third part of the Snake Plissken sci-fi series has finally hit cinemas everywhere — not that Carpenter had anything to do with this blatant rip-off. Like Escape from New York in space, we are witness to a President's high-minded daughter (Maggie Grace) being pulled into a prison riot on an off-planet facility. Naturally, the government needs an ace to swoop in and save her, and that's where ex-CIA agent Snow (Guy Pearce) comes in. Loaded with an elaborate spy skill set and a wealth of one-liners, this gruff action man is poised to pull off the impossible. Unfortunately, his battle with 500 insane convicts is rote and uninvolving.
It's 2079 and our hero has just been framed for the murder of a buddy. While delivering the contents of a briefcase to his secret connection, Mace (Tim Plester), Snow is captured by the head of the Secret Service (Peter Stormare) and charged with treason. When First Daughter Emilie Warnock gets trapped on the orbiting prison MS-1, there is a need for someone to step in and rescue her. Snow is chosen, and going it alone, must confront the psycho siblings — Alex (Vincent Regan) and his insane younger brother Hydell (Joseph Gilgun) — who are in charge of the unplanned uprising. With the help of his own wits and some specialized help on the outside…in the persona of pal Shaw (Lennie James), he has vowed to pull this off, or crack wise trying.
With its shivering, shaky-cam action sequences and plethora of groan-inducing punchlines, Lockout is a movie that knows exactly what it wants to be. This is no reinvention of the genre or attempt at something artistic. Instead, the benefactor Besson brings on a couple more untried talents — writers/directors James Mather and Stephen St. Leger — and gives them a guidebook on making middling guilty pleasure fare. If this were 1992, you'd see Dolph Lundgren or Jean-Claude Van Damme's name above the direct-to-DVD cover credits. Instead Pearce plays it up, accenting the half-baked humor in the script while downplaying anything else that could be considered brave or bravura. Lockout is a movie about fun, not fancy special effects or deep meaningful messages. It's all patina and no power.
About the only interesting element here is the performance by UK actor Gilgun. With a head that looks like it was shaved by an epileptic monkey and an indecipherable accent, he's all lean mean jailhouse tattoos and stark raving redolence. He's so unhinged, so lost in his own interpretation of the babbling crackpot criminal that he threatens to upstage the rest of the film. No one can compete with him — not Pearce, not Stormare, not even his supposedly more level headed slow burn brother Regan. It's a one man clinic on crazy, and Gilgun is one helluva instructor.
As for the rest of the movie, it's flawed fast food, the cinematic equivalent of a bacon-wrapped taco loaded with pink slime meat byproduct and corn syrup. It's not necessarily good for you, but it probably won't kill you, either. In truth, there is nothing wrong with a mindless, over-the-top action romp. Just look at the deadly duo Neveldine/Taylor and their terrific Jason Statham Crank efforts. Lockout could have been on par with that freak show franchise. Instead, by borrowing a bit too liberally, it ends up drowning in its own demented designs.