Review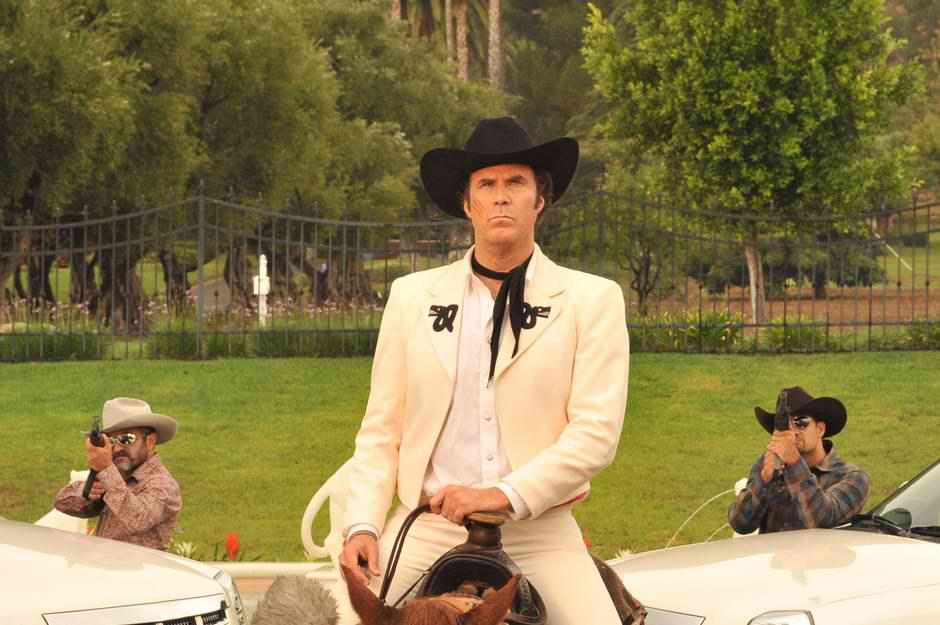 There are good old gags and there are stale old gags. Some stopped working decades ago due to overuse and some never grow old. The Will Ferrell Spanish-language toss-off Casa de mi Padre is full of gags that are neither of these, as well as a couple of the stale variety. The one where a group of guys laugh long and hard at a joke and then keep laughing, and laughing, and laughing? That joke's here. It doesn't augur well for what's to follow. While Ferrell works up a sweat trying to translate his trademark dunderheaded obstinacy into laughs, the effort is spread too thin over fallow material.
Ferrell's cluelessness is this time poured into the jeans and boots of Armando Alvarez. Thought of as the lesser of his wealthy rancher father's sons, Armando palls around with a pair of friendly ranch hands (one of whom is played by Efren Ramierz from Napoleon Dynamite, a touchstone for this film's undercooked deadpan). The arrival of his flashy brother, Raul (Diego Luna), awakens Armando's jealousy for all the filial attenion the prodigal receives. In true telenovella fashion, Armando also immediately lusts for Raul's bombshell girlfriend, Sonia (Genesis Rodriguez). Meanwhile, a local narcotrafficante, The Onza (Gael Garcia Bernal) is encroaching on the ranch, and Raul's sunglasses and omnipresent cigarette signal that he's not unfamiliar with the drug traffic either. Later scenes of Raul huffing piles of cocaine and brandishing an automatic rifle confirm it.
At first, it appears that director Matt Piedmont is going to use the strung-together nature of Andrew Steele's script to his advantage. Piedmont seeds numerous scenes with purposefully amateurish highlights: backdrops are patently fake, some crowd scenes are fleshed out with mannequins, and in one close-up of a character's sunglasses a crew member can be seen eating in the reflection. There's a lot of breaking the fourth wall going on here, with the film jumping out of its sprockets from time to time, both literally and figuratively. While these glosses on the inaction make some of the film (which is about a third too long at 84 minutes) go by more smoothly, Piedmont and Steele's unwillingness to go for the big gag critically hampers this increasingly moribund farce.
Casa de mi Padre has the feel of a concept that Adam McKay and Ferrell (both of whom are listed here as executive producers) cooked up and then couldn't quite figure out how to execute. Handing it off to a couple of guys who have worked on their Funny or Die series turns out to have been a poor idea, as there is nothing about this film that would suggest it was feature-worthy. There are great moments scattered here and there, with Bernal's campy glee in playing the stock villain and a musical interlude around a campfire that's no less surprisingly beautiful for its absurdity. But those moments are undercut by dreadfully unfunny dream sequences and a too-heightened sense of self-awareness. More often than not, the film is just lazy. Farrell's just-passable Spanish is comical for perhaps the first five minutes, but hardly funnier than the briefly-deployed uber-American "Spanish" of DEA Agent Parker (Parks & Recreation's Nick Offerman calmly chewing the scenery into sawdust).
This is bush-league stuff – a satire in search of a real target.