Tinker, Tailor, Soldier, Spy (2011)
Description
[from Freebase]
Tinker Tailor Soldier Spy is a 2011 Anglo-French espionage film directed by Tomas Alfredson, from a screenplay written by Bridget O'Connor and Peter Straughan based on the 1974 novel Tinker, Tailor, Soldier, Spy by John le Carré. The film stars Gary Oldman as George Smiley, and co-stars Colin Firth, Tom Hardy, John Hurt, Toby Jones, Mark Strong, Benedict Cumberbatch and Ciarán Hinds. Set in London in the early 1970s, the story follows the hunt for a Soviet double agent at the top of the British secret service. The film was produced through the British company Working Title Films and financed by France's StudioCanal. It premiered in competition at the 68th Venice International Film Festival. The film was a critical and commercial success and was the highest-grossing film at the British box office for three consecutive weeks. It received three Academy Award nominations including a Best Actor nomination for Oldman. In October 1973, Control, the head of British Intelligence ("the Circus"), sends agent Jim Prideaux to Hungary to meet a Hungarian general who has promised to sell information. However, Prideaux is shot and captured.
Review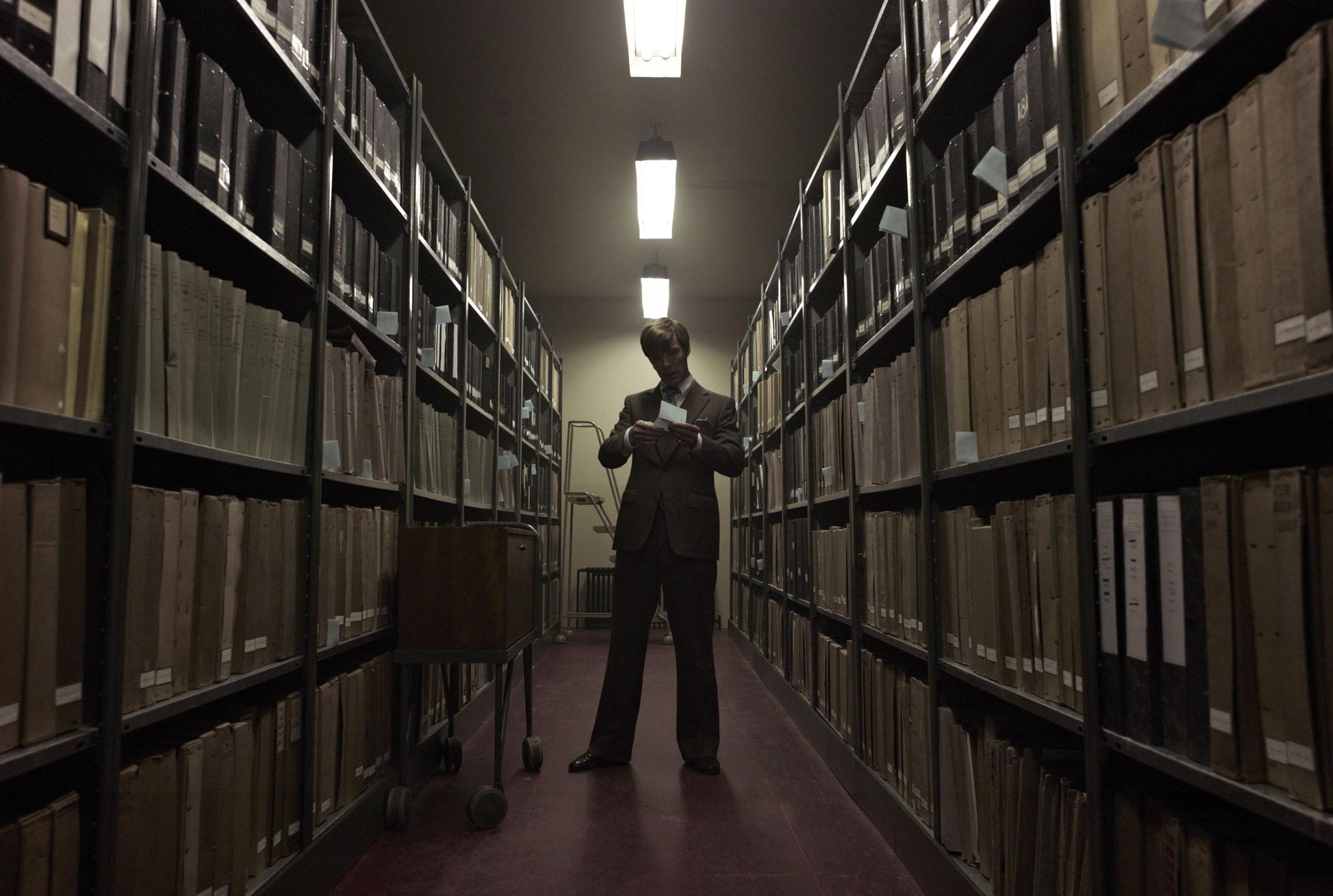 In Let the Right One In, Tomas Alfredson brought a wintry stillness to the vampire-movie genre, his characters creeping across snowy yards and forests. His version of John Le Carre's spy thriller Tinker Tailor Soldier Spy looks like winter, too, but winter after the snow has melted away, leaving behind shades of gray and brown. In other words, it looks like every derisive description of English weather: overcast, chilly, damp.
Appropriate, as the material is quite British: Le Carre's original novel, following the labyrinthine investigation of a possible mole in the upper echelon of the Secret Intelligent Service, was made into a BBC miniseries starring Alec Guinness, and has now been condensed into a 130-minute film with a who's-who of U.K. character actors, like a seedier, brainier version of the Harry Potter call sheets. Gary Oldman leads as George Smiley, a retired agent recruited to head up the investigation; his codenamed suspects that give the movie its title include Ciaran Hinds, Colin Firth, and Toby Jones.
It sounds simple enough, and in classic espionage style, it isn't. In a series of interviews, flashbacks, and footnotes, we glimpse subplots that could almost stand alone, like the story of Jim Prideaux (Mark Strong), injured and retired in the attack that opens the film and may be the work of the mole, or Ricki Tarr (Tom Hardy), who falls in love with a Soviet operative and thinks he can save her while collecting vital intelligence. Because these side characters are less mysterious and more emotionally open than some of the higher-ups, Strong and Hardy give two of the film's most distinctive performances. They've both made runs at big-studio roles and will doubtless continue to do so, but it's a treat to see them staying in touch with their character-actor roots. Strong in particular works better in idiosyncratic supporting roles than the generic bad guys he's played for Sherlock Holmes and the like.
Strong and Hardy (whose names, paired together, could describe a soup marketed to lumberjacks) also have the benefit of their own stories, rather than the interlocking suspicions, loyalties, and loneliness that characterize much of Smiley's investigation. During its deepest excursions into hushed spywork, Tinker Tailor Soldier Spy feels like an extended quiz on your ability to put names to faces, codenames to other faces, and nicknames to important intelligence organizations. My ability, I discovered, is not so great. I would make a very poor British spy, confusing head honcho Control (John Hurt) with the good guys from Get Smart, and elusive bad guy Karla with any given lady.
Smiley, though, is a better agent, and Alfredson seems to be questioning what this says about him, or any of the other secretive, isolated men he interacts with. That isolation, that study of characters maneuvering through their stations in life, feels more personal than international; whether it's due to Alfredson's interests or the story's hushed density, the film focuses more on character and mood than suspense. The identity of the mole doesn't carry as much urgency. "The fanatic is always concealing a secret doubt," one of the agents says (I think it was Smiley, but again: lousy spy). This could describe the loyalty and trust that is supposed to hold Secret Intelligent Service together, until it doesn't.
There are moments where Alfredson turns the film's dreariness into a grim, rueful joke on high-stakes office politics — one inspired deviation from the source material has most of the main characters gathered at a company Christmas party, conducting themselves with not much more decorum than you'd see at any other office (and maybe a little less). Less amusing and more evocative, he places most of the characters in compositions through windows and other frames, as if observing them from a distance. His careful, fixed shots bring out unexpected visual details, like the medium shot of three grim men traveling in a car, stoic but temporarily vexed by a fly buzzing through the vehicle. The costumes and production design are appropriately meticulous.
With these subplots, strong performances, and spotless technical craft, the movie produces a series of gorgeous puzzle pieces. While they do fit together fine on a story level, though, the sum of the plot doesn't quite match its parts; the literal story may be incidental compared to the characters, but it takes up a lot of screen time while also managing to give several of its chief suspects the short shrift. Tinker Tailor Soldier Spy is smart and beautifully made; it also verges on dryness. Its moments of reserved emotion ring true but, echoing through the movie's halls of deception, also a little faint.
Portions from Freebase, licensed under CC-BY and Wikipedia licensed under the GFDL