Review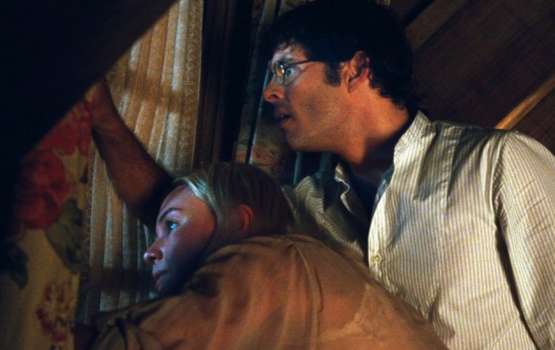 Rednecks are rude. Rednecks are evil. Rednecks are cliquish, clannish, creepy, and incapable of dealing with situations sans a shotgun and a surly attitude. Even the small town "boys" of Blackwater, Mississippi, worshipers at the altar of God, Molly Hatchet, and football, occasionally stray from the down home dogma toward rape and murder. It's in their DNA, like huntin' and being suspicious of edu-ma-cated folk. That's the message of Rod Lurie's turgid take on the controversial Sam Peckinpah shocker Straw Dogs. Retrofitted from England to the rural South and given that groan-inducing Gothic that makes Northerners seem like savants, this is basically a note-for-note retelling with Dixie doubling for the bad-toothed terrors of the UK.
Screenwriter David Sumner (James Marsden) has decided, along with his actress trophy wife Amy (Kate Bosworth), to come back to her old hometown and renovate the family abode. They will then sell it and return back to sunny, civilized LA. Upon arriving, they run into Amy's old high school flame Charlie (Alexander Skarsgård) and, after a couple beers, hire his crew to repair their barn. They also learn about old drunk coach Tom Heddon (James Woods), his daring daughter (Willa Holland), and the local idiot with an inferred pedophilic past (Dominic Purcell). Initially, everything seems fine. Then Charlie and his crew — including buddies (Rhys Coiro) and Bic (Drew Powell) — start tormenting the couple. Before long, David and Amy are fearing for their lives…and with very good reason indeed.
Straw Dogs is one confused slice of pseudo-schlock. It constantly confuses artistic ambitions with exploitative needs. On the one hand, the film is a 100 minute slow burn to an explosive and bloody ending. One implied rape aside, however, it's a trudge to get to said finale. Along the way, we watch as highly groomed ciphers sit around and try to play nice with the yokels. They talk. They fret. They find a dead cat in their closet — and yet they hang around and wait for the plot mechanics to catch up with them. Gone is all the subtext and political handwringing that Peckinpah brought to the original (Dustin Hoffman's David is a professor escaping the anti-war chaos of late '60s college campuses). In its place are goofy grins, an ineffectual black sheriff, and one too many rebel yells.
Both Marsden and Bosworth seem out of their element here. It's just difficult to think of them as strong, survivalist types. There is never an indication that Amy can stand on her own and David is drawn like the worst kind of La-La Land lightweight (His workout regime? Jumping rope). So when they lock down their home and prepare to defend it, we know that coincidence and contrivance will more than likely replace courage. As for the bad guys, Skarsgård's Charlie is another red herring. His switch from 'aw shucks' to psycho is alluded to with Amy's initial apprehension, but it does comes on so suddenly that we never get a real motive. Pure malevolence is one thing. Random atrocities are another.
Toward the end, as the fireworks are starting to fester, one instantly recalls a much better update of this otherwise standard storyline. While despised by most, I Spit on Your Grave is everything that the 2011 Straw Dogs wants to be and can't. Heck, either of the two Last House on the Left efforts is better. In the early part of the Me Decade, Sam Peckinpah traded his '60s superstar status for some creative controversy. Now, forty years later, he's being revised and re-imagined. In the case of Straw Dogs, the modifications are muddled and meaningless; that is, unless you are a redneck.