Review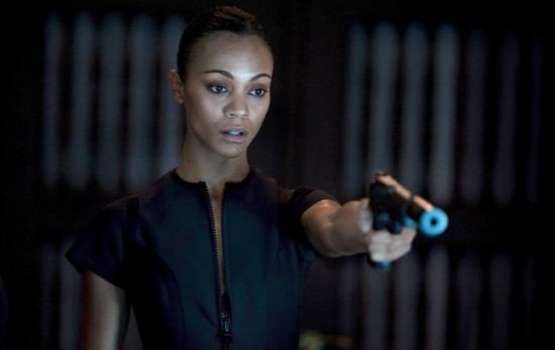 For someone who supposedly "retired" from the movie business in 2006 to concentrate on working behind the scenes of the industry, French film icon Luc Besson seems more busy than ever. Granted, he's not directing much, but his resume over the last few years includes 20 some pictures as either writer, producer, or both. Responsible for such flailing franchises as The Transporter and Taxi, his latest is entitled Colombiana, and continues his run of over the top schlock action efforts. With dithering disciple Olivier Megaton on board as director and the fantastically fetching Zoe Saldana as our title assassin, Besson stays close to his glorified guilty pleasure roots.
When she was nine-years-old, Cataleya (Amandla Stenberg) saw her parents killed by Marco (Jordi Mollà), the henchman of a local Colombian drug lord named Don Luis (Beto Benites). Escaping before they can eliminate any 'witnesses,' our tiny heroine manages to make it to the US Embassy, and then Chicago, where she falls under the tutelage of her Uncle Emilio (Cliff Curtis). There, she becomes a highly trained hit woman (Saldana) who leaves behind an orchid — her namesake — calling card on each one of her victims. Naturally, she has not forgotten her past and is actively seeking revenge against those who destroyed her childhood, leaving a trail of 23 victims in her wake. This gets the interest of FBI Special Agent Ross (Lennie James), who believes the flower symbol is the work of a tag serial killer. Desperate, Cataleya hopes to satisfy her need for revenge before the law tracks her down.
Colombiana is not brain surgery. Actually, it would have to import some grey matter in order to accommodate such a medical mandate. Typical of Besson's creative canon, it's escapism as exaggeration, with everything from the set-pieces to the sexiness amplified and aimed directly at the mind's idle endorphins — and if that doesn't get your popcorn season rocks off, there's Ms. Saldana standing around in tight t-shirts and shorts, guns blazing and body contorting to the closely choreographed chaos. If the genre has fallen into any kind of redundant malaise, it's largely due to Besson himself and his belief in the shaky-cam, scattershot approach to staging. Megaton, who made a similar mess of Transporter 3, has spent way too much time watching video playback to realize how his Hellzapoppin' style plays on the big screen. Instead of being exciting, he over-edits, and when he slows things down a bit, the movie starts to meander…badly.
And yet, somehow, we almost forgive the frenzy this time. It could be because of the casting. We warm to Cataleya early on (her pre-teen parkour routine to elude danger is very intense) and sympathize with her desire for payback. Even as she takes out swarms of baddies, we believe in her cause. Of course, Besson and Megaton have to guild the lily, so to speak, and give her a sensitive, hunky artist boyfriend (Michael Vartan) to mope over. Even though their relationship appears mostly physical, we have to watch as they try to convince us its more complicated. The idea of a meek little kid evading capture by Colombian gangsters at the beginning of the film is more persuasive.
Once the FBI/CIA angle kicks in, everything is set for a massive confrontation/firefight between the good guys, the bad guys, and our angry angel of death. Hoping to infuse this given with a bit more pizazz, Besson belabors the inevitability with as many implausible elements as possible. This makes the ending more silly than satisfying, but then again, so is almost all of Colombiana. We don't come to a Besson production for subtlety or nuance. His latest lark is no exception.