Description
[from Freebase]
Carnage is a 2011 black comedy film co-written and directed by Roman Polanski, based on the play God of Carnage by French playwright Yasmina Reza. The film is an international co-production of France, Germany, Spain and Poland. When two grade-school boys get into a confrontation in the park that results in one boy hitting the other in the mouth with a stick, their parents meet in a Brooklyn apartment to discuss the matter. The parents of the boy wielding the stick, Alan and Nancy Cowan (Waltz and Winslet), visit the home of Michael and Penelope Longstreet (Reilly and Foster), who are the parents of the boy who was struck. Their meeting is initially intended to be a short visit but various circumstances, such as Nancy vomiting in the Longstreet's living room and Alan's numerous cell phone conversations, continue to draw it out. At first, the verbal exchange between the two married couples maintains a high civility factor but when the differences between them start to emerge, subtly at first and eventually glaringly, the couples begin to turn on each other and finally each on their own spouse.
Review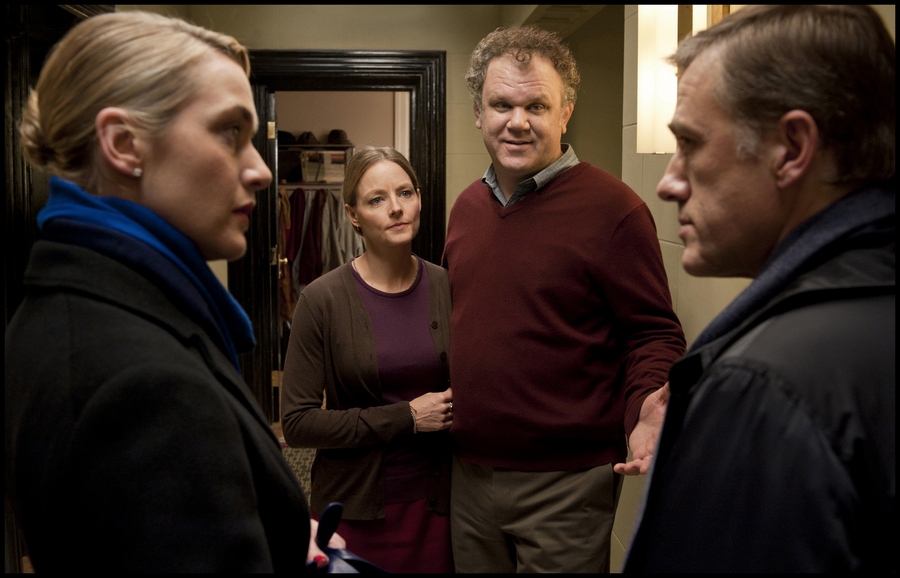 What does a parent do when their child whacks another child in the mouth with a stick? Teeth are lost, scarring ensues, and the machinery of modern American over-parenting rolls into action. Two sets of parents meet in a painfully tasteful Brooklyn apartment in Roman Polanski's rollicking screw-tightener Carnage to resolve that question. The answer isn't even close to being discovered by the film's end, but one thing is clear: not one of the four adults yammering and needling and passive-agressive-ing the others has got it right.
A bouncing Alexandre Desplat score clicks into action over the credit sequence, just about the only thing in the film that happens outside that apartment and the hallway outside. As the credits roll over a cold day in Brooklyn Bridge Park, some children silently confer, argue, group, and split apart; then the stick is swung, and teeth lost. Next, the Longstreets (parents to the boy who was hit, Ethan) and the Cowans (whose Zachary did the hitting) are gathered in the Longstreets' apartment going over the wording of a statement. Penelope Longstreet (Jodie Foster) is battering away at the keyboard, her face pulled so tight you can practically hear her teeth clicking.
Meanwhile, Alan Cowan (Christoph Waltz), a lawyer of the gleefully soulless variety who can't decide whether he's bored or irritated and settles on a combative brew of the two, quibbles with the judgmental tone of her phrasing: "Armed with a stick?" Penelope thinks that the issue needs discussion and analysis and resolution, while Alan couldn't care less: "Our son is a maniac," he shrugs, before taking another in a series of abrasive phone calls that punctuate the film like water-torture. Slightly on the sidelines are Alan's wife Nancy (Kate Winslet) and Penelope's defensively dopey husband Michael (John C. Reilly), though with a little prodding they get right into the thick of battling for the moral high ground.
Yasmina Reza adapated her play God of Carnage for the film with Polanski, and has kept nearly all of it intact. On stage it was just about as much a farce as it is on screen now. Reza's play was one of those occasional sensations that sweeps through Broadway wherein the genteel, well-bred characters on stage nip and wheedle at each other until the gauzy trappings of civilization are thrown aside so the raging beasts within can roar out. It was very much of a piece, which is not a criticism — that would be like dismissing a skillfully frothy new musical for being nothing more than that. (Though one does wonder why playwrights don't pen more works about, say, pathology-ridden working poor characters who turn out to be more civilized than some predict.) If there weren't many surprises to be found by the end of the evening, that doesn't mean it was any less fun than a particularly misanthropic Mamet or Pinter effort. It was a social comedy where what's striking is not so much the rawness of what's being said but how these people, whether repressed scolds or over-compensating braggarts, have managed to keep it held in for so long.
Polanski's take doesn't dwell over much on the substance of what's being discussed, which ranges from cell-phone etiquette to genocide in Darfur. He angles in on the tension that's thick as smog in the apartment, leering his camera at the actors so you can see every jittering nerve and narrowing of the eyes. It all unspools in almost real time, with the moral calculus flipping quickly from one moment to the next and spouses taking advantage of the hostilities to air some long-held grievances.
It's an actor's playground, with Winslet and Foster practically leaping off the screen with the fearsome ridiculousness of their performances. Egged on by the barely civilized boors they've saddled themselves with, when the reckoning comes it's a sight to behold. After the gloves have come off and Michael asks Penelope whether drinking wouldn't be bad for her, and she cracks back with "No, it's great for me," that sound you hear is the sound of relief that Foster came both to play and to take no prisoners. Nobody in Carnage does.
Portions from Freebase, licensed under CC-BY and Wikipedia licensed under the GFDL