A Lonely Place to Die (2011)
Description
[from Freebase]
A Lonely Place to Die is a 2011 thriller film directed by Julian Gilbey and based on a screenplay from Will Gilbey and Julian Gilbey. It stars Melissa George, Ed Speleers, Karel Roden, Eamonn Walker, Sean Harris and Kate Magowan. A group of five mountaineers are hiking and climbing in the Scottish Highlands when they discover a young Serbian girl buried alive in a small chamber in the wilderness. They face dangerous terrain and become caught up in a terrifying game of cat and mouse with the kidnappers as they try to get the girl to safety. Shooting began on 13 May 2010 in Scotland under the working title The Grave at Angel's Peak. Julian Gilbey shot the film from the screenplay "The Long Weekend" by Will Gilbey. The film is produced by Carnaby International, the studio behind Doghouse. Franka Potente was originally cast for the role as Alison and was later replaced by Melissa George. In April 2011, the film had its world premiere at the Actionfest Film Festival in Asheville, North Carolina USA where it was awarded 'Best Film' and 'Best Director'.
Review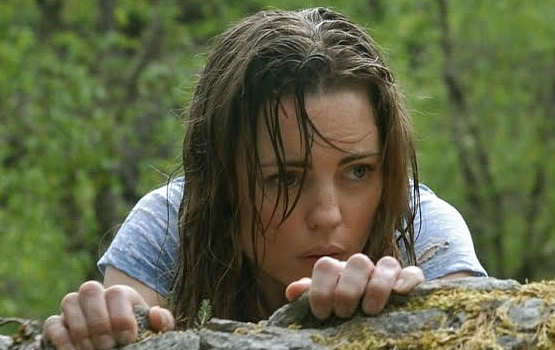 The thriller genre is built on our heroes or heroines being in the wrong place at the wrong time. From mistaken identity to intentional deception, suspense and fear is often built on the backs of someone stumbling upon something they weren't supposed to. In this excellent example of the cinematic type, co-writer/director Julian Gilbey takes us deep into the Scottish Highlands where a group of mountain climbers are hoping for a bit of fun and athletic relaxation. Instead, they come across a girl buried alive, a group of ruthless kidnappers, and a desperate dad who will stop at nothing to make everyone – or anyone – pay for what's happened to his child. It sounds like the set-up for a first rate experience in dread…and for the most part, it is.
We begin with an adventurous trio – Alison (Melissa George), Ed (Ed Speleers) and Rob (Alec Newman) – making their way up the side of a steep cliff. At the top is a cabin where married pals Jenny (Kate Magowan) and Alex (Garry Sweeney) are preparing for a quiet weekend in the countryside. The quintet are eager for some more mountainous derring-do, by high winds put a kibosh on their plans. Instead, they go for a hike and come across something surreal - a pipe sticking out of the ground.
A little digging reveals a makeshift coffin and a little girl (Holly Boyd) who cannot speak English. Turns out she is Croatian and has been kidnapped by some ruthless thugs (Sean Harris and Stephen McCole). They are demanding a high ransom from the child's father and don't take kindly to having interlopers mess up their plans. Hoping to take the hostage to safety, our clueless group soon learns the deadly lesson of getting involved in situations where they do not belong.
From the opening shots high along the gorgeous/treacherous Scottish peaks to the last act immersion in a small town's pagan festival, A Lonely Place to Die is a superb slice of suspense. It's got all the elements needed (realistic circumstances, identifiable characters, hissable villains) to make the material work and work well. In the hands of Gilbey, who never met a moment he couldn't over -emphasize and amplify, the film plays likes a string of suspect firecrackers. Once the fuse is lit, we are never quite sure when each explosive is going to go off – and who it's going to affect when it does. Thanks to the twists and turns present, along with the slightly hyper approach, the film keeps us riveted and invested.
Of course, this really is nothing more than a strongly structured piece of victim fodder where names on the marquee find themselves eliminated based on their supposed star power. We will almost definitely end up with a "last girl," a preening killer, and a denouement maneuver meant to spin the whole story in another direction. While Gilbey understands this and tries to avoid it, the narrative (which he crafted with help from his brother Will) can't help but fall prey to such predictability. Luckily, the movie is self-aware enough to recognize its issues and attempt to address them.
The results resonates as a first class thriller and a shot in the arm for a genre that rarely gets beyond the boring direct-to-DVD basics. Indeed, most exercises in suspense are dull and draining. With A Lonely Place to Die, we get the standard set-up and the typical payoff. In between, however, we wind up with an inventive revision that provides enough edge of the seat entertainment to render all other contemporary attempts moot.
Portions from Freebase, licensed under CC-BY and Wikipedia licensed under the GFDL