Description
[from Freebase]
Toy Story 3 is a 2010 American 3D computer-animated comedy-adventure film, and the third installment in the Toy Story series. It was produced by Pixar and released by Walt Disney Pictures. It was directed by Lee Unkrich. The film was released worldwide from June through October in Disney Digital 3-D, RealD and IMAX 3D. Toy Story 3 was also the first film to be released theatrically with 7.1 surround sound. The plot focuses on the toys Woody (voiced by Tom Hanks), Buzz Lightyear (voiced by Tim Allen), and their friends dealing with an uncertain future as their owner, Andy, prepares to leave for college. Tom Hanks, Tim Allen, Joan Cusack, Don Rickles, Estelle Harris, John Ratzenberger, Wallace Shawn, Jeff Pidgeon, Jodi Benson, R. Lee Ermey, John Morris and Laurie Metcalf reprised their voice-over roles from the previous films. Jim Varney, who played Slinky Dog in the first two films, and Joe Ranft, who portrayed Lenny and Wheezy, both died before production began on Toy Story 3. The role of Slinky Dog was taken over by Blake Clark (a friend of Varney), while Ranft's characters and various others were written out of the story.
Review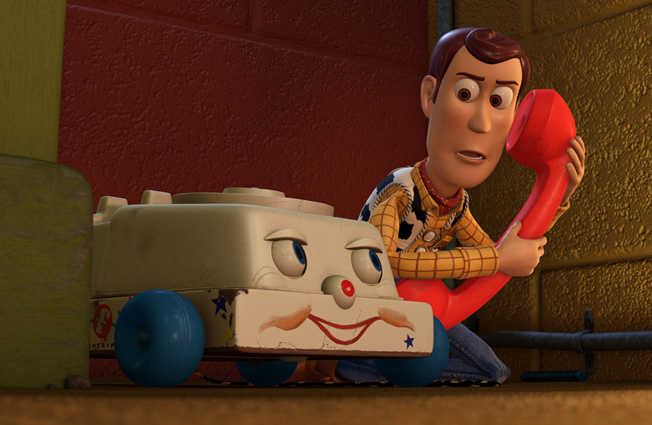 Toy Story 3 has one glaring problem. You know those glasses that are required to view the sequel in glorious 3-D as director Lee Unkrich intends? You'll be removing them regularly to wipe away tears.
F.A.O. my Schwartz, the third Toy story is a weeper, particularly during the final 15 minutes, which are dark (by family animation standards), poignant (even by Pixar's mature standards), and overwhelmingly touching (even for the Toy Story series, which willingly associates itself with the difficult, emotional milestones of youth and still has managed to entertain generations of audiences).
It's also a rarity. The third films in successful movie franchises tend to be the ones that drive the series into the ground. The Godfather Part III, Superman III, and Lethal Weapon 3 are just a few of the sequels that spent the goodwill earned by their predecessors. Not Toy Story 3. Impossible as it may seem, this anticipated sequel that was roughly 11 years in the making soars as high as its animated brethren, once again transporting lucky audiences to infinity and beyond.
Please don't read too far into this review before seeing the film. Part of the sequel's immense joy is embarking, unspoiled, on another heart-tugging, action-packed journey with timeless characters we've grown to cherish. All you need to know is that Toy Story 3 is phenomenal, the perfect addition to what is now an unparalleled cinematic trilogy. Come back after seeing it, if you think of it, and read why I loved it so.
You're back? Great. Then you already know that Toy Story 3 opens with the same imaginary scenario young Andy conceived at the start of the original 1995 film, only everything has been amplified, as if to demonstrate how far our own imaginations have progressed since then (and how sophisticated Pixar's storytelling methods have become over the same period of time).
Randy Newman's sure-to-be-Oscar-nominated music triggers grainy, home-movie footage of Andy over the years, filling the gap between 1999′s Toy Story 2 and present day. When the montage stops, 17-year-old Andy is packing for college and his once-beloved toys — Woody (Tom Hanks), Buzz Lightyear (Tim Allen), Jessie (Joan Cusack) and the gang — are dealing with serious abandonment issues.
Woody, loyal to a fault, tries rationalizing the potential comforts of attic retirement, where the dedicated toys can wait for Andy should their negligent owner ever need them in the future. I've got two boys. I've watched them spend long afternoons playing with Star Wars figures preserved from my childhood in a beaten up but still serviceable Darth Vader head. So yes, I'm living proof that Woody's correct. Those toys in the attic can serve another purpose one day, and the original owner will be more than happy to see them put to good use once again.
But when a mix up almost lands Andy's bundled toys in the trash, Buzz and crew maneuver themselves to the Sunnyside Day Care center, where they hope to finally be played with by new toddlers. What they find, instead, is a pseudo-plastic prison presided over by the strawberry-scented Lotsa Huggin' Bear (Ned Beatty); a creepy enforcer named Big Baby; and a fey, dream-home-living Ken doll voiced with artificial enthusiasm by Michael Keaton.
Lessons learned in previous Toy stories resurface. The fear of being left behind is omnipresent, and the importance of teamwork is emphasized. Daring rescue missions from the first two films have been replaced by an elaborate prison-break scenario that utilizes cinematic clichés in impressively clever ways.
At the same time, Unkrich expands on the sizable Toy Story community without stealing the spotlight from his main players. Sunnyside is loaded with colorful and interesting characters. We're introduced to imaginative preschooler Bonnie (Emily Hahn) and her collection of beloved playthings — the best being Timothy Dalton's porcupine, Mr. Pricklepants, who treats each of Bonnie's adventures like West End theatrical productions. But Unkrich and his screenwriter, Michael Arndt (Little Miss Sunshine), find endearing ways to play with these new components without sacrificing natural developments for original toys Woody and Buzz, or even secondary characters like Andy, his sister Molly, or their sentimental mom.
Of course, individual lines of dialogue can carry worlds of emotional baggage depending on what you bring to the table. Woody lamenting the passing of broken penguin toy Wheezy tugs hard at your heart if you know the character was voiced by the late Pixar artist, Joe Ranft. A seemingly throwaway line about daycares having to be friendly places because there's a welcoming rainbow on the door hits home with any parent who has had to rationalize dropping off their child with strangers and wanting to believe that the place they are leaving them is safe and warm. Others could view Toy Story 3 as a debate over the merits (or detriments) of senior-living communities, particularly if you've recently toured one with an ailing parent.
Maybe you don't want to unearth the deeper meanings resting beneath the surface of Toy Story 3, though. Maybe you just want to be entertained, in which case you'll delight in the fact that in terms of animation, humor, and heart, the film is light years ahead of its competition. It's a rousing adventure, a winning comedy, a thoughtful drama, and a treasured reunion with beloved fictional friends. It's a Pixar film. Better than that, it's a Toy Story film. What more recommendation could you possibly need?
Portions from Freebase, licensed under CC-BY and Wikipedia licensed under the GFDL