Description
[from Freebase]
Ramona and Beezus is a 2010 Fox-Walden film adaptation of the Ramona series of novels by Beverly Cleary. The film's title derives from Beezus and Ramona, the first of Cleary's Ramona books, though the plot is mostly based on the sequels, particularly Ramona Forever and Ramona's World. The film opens with adventurous and creative third grader Ramona Quimby (Joey King) playing on the monkey bars during recess along with her best friend, Howie Kemp (Jason Spevack). Ramona echoes Howie's name as if she were above the Grand Canyon. When Ramona becomes frightened by the height of the monkey bars, she sticks her feet in two rings and lets go with her hands. (Ramona and Beatrices Dad) Robert loses his job and they are in debt at their home. Ramona overhears her parents' conversation and decides she's going to sell lemonade. Beezus sees Henry Huggins (Hutch Dano), the paper boy, and spits lemonade in his face due to a fly landing in her glass of lemonade and gets angry at Ramona, saying that Ramona embarrassed Beezus in front of Henry by spitting lemonade in his face and nicknaming her "Beezus," instead of Beatrice (because Ramona couldn't say Beatrice when she was a baby).
Review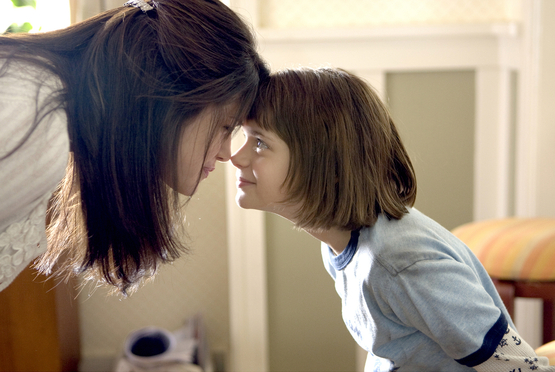 Beverly Cleary's novels about rambunctious youngster Ramona Quimby have remained popular over several decades (the first was published in 1955, the latest in 1999) because the truths they tell about childhood remain timeless, with insights that can easily reach across generations and genders. It would be easy for Hollywood to co-opt Cleary's recognizable brand and turn it into something crass and soulless, but the best thing about Ramona and Beezus is the way that it keeps the spirit of the author's work intact, even while giving it a few modern upgrades.
Ramona and Beezus is easily the most wholesome movie of the summer, but its squeaky-cleanness never comes at the expense of honesty or character. Nine-year-old Ramona (Joey King) and her teenage sister Beezus (Selena Gomez) may be remarkably nice and respectful compared to many of their movie counterparts, but that doesn't make them any less real; we can easily relate to their sibling dynamic, equal parts love and irritation. No one in Ramona and Beezus ever plays a video game or uses a computer, and the movie demonstrates the simple pleasures of old-fashioned family activities: Ramona opens a lemonade stand, draws pictures with her dad (John Corbett), and runs around the yard with her best friend. One of the movie's pivotal scenes occurs during a good-natured water fight between the Quimbys and the family next door.
All of these moments are presented completely without cynicism or judgment, and their joyousness is infectious. Like Cleary's books, Ramona and Beezus (which combines elements from a number of Ramona stories) doesn't have much of a plot. It's a mostly episodic stroll through a few months in the life of the Quimbys, driven mainly by the concerns over Ramona's dad getting laid off and trying to find a new job. Time is also made for the romance between Ramona's Aunt Bea (Ginnifer Goodwin) and her newly returned high school sweetheart (Josh Duhamel); Beezus's halting efforts to become more than friends with her buddy Henry (Hutch Dano); Ramona's various ill-advised schemes to save the family's finances; and the flights of Ramona's overactive imagination, which director Elizabeth Allen occasionally illustrates with stylized special-effects sequences.
It's all handled with grace and warmth, and even the special effects are used just sparingly enough to be welcome diversions. King offers just the right balance of cuteness and mischief as Ramona, and successfully conveys moments of doubt and sadness with equal assurance (the movie handles the death of a beloved family pet particularly well). Disney Channel star Gomez gets less screen time despite Beezus's name also being in the title, but she and King have believable chemistry as siblings. Corbett and Goodwin shine among the adult actors; you can see their maturity without taking too much focus off of Ramona and her antics.
As enjoyable as the Quimbys are to watch, the movie meanders a bit as it goes on, and doesn't so much end as just stop. With all the Cleary material out there, the adventures of Ramona are probably better suited for a TV series (and were made into one in 1988, starring a young Sarah Polley as Ramona). Still, that wealth of source material means we'll probably get to see a sequel to Ramona and Beezus, and it would definitely be a welcome treat.
Portions from Freebase, licensed under CC-BY and Wikipedia licensed under the GFDL