Griff the Invisible (2010)
Description
[from Freebase]
Griff the Invisible is a 2010 comedy romance drama film written and directed by Leon Ford.
Review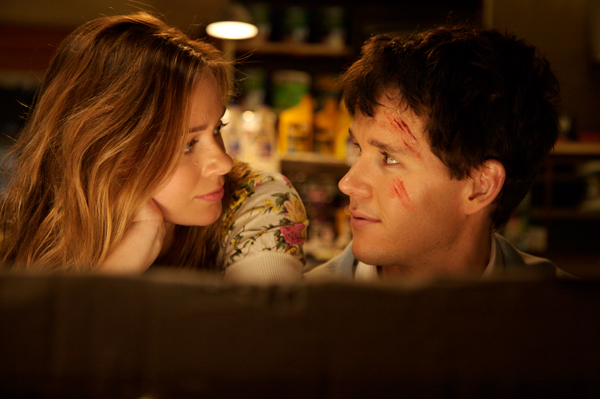 Watching Griff the Invisible is like babysitting a neighbor's puppy. It is cute, cuddly, and gleefully bashful, which makes you want to coddle it until the next full moon. But then you realize the puppy causes mischief, tears up the carpet, and leaves unpleasant droppings all over the place. Not so cute after all…just annoying.
I'd rather baby sit ten puppies than endure another viewing of Griff the Invisible, a boring, aimless installment into the rapidly growing subgenre of quirky superhero comedies. Simply put, it is the cinematic equivalent to watching paint dry. It is so bad, it actually evokes a certain level of anger.
Griff the Invisible comes all the way from the Australian outback, where writer/director Leon Ford has cast Ryan Kwanten (the sexy vampire dude from True Blood) in the title role. In the film, Kwanten trades his dark vampire allure with a stuffy business suit, playing a geeky, painfully apprehensive office employee.
Griff is a classic misfit, too strange to belong in any social gathering. By day, he blends in with the earth tones of the cubical walls, often finding himself bullied by co-workers. At his urban apartment, the only visitor Griff gets is his unimaginative brother (Patrick Brammall), who tells him to focus more and daydream less.
When night falls, however, Griff indulges in a slew of oddball fantasies. Without hesitation, he transforms into a crime-fighting, masked superhero, costumed in an outfit that looks like a cross between Batman and the Tick…except a bit squeakier.
The superhero thing makes Melody (Maeve Dermody), another everyday misfit, the perfect romantic pairing for Griff, since she spends much of her time trying to walk through walls. After she learns of Griff's peculiar quirks, it merely enhances their relationship when she unexpectedly encourages it.
Unlike other recent comedies with superhero concepts–like the riotous, high-energy Kick-Ass or the low-key but undeniably clever Paper Man–Griff the Invisible has absolutely no idea how to develop the appropriate tone for its concept. It doesn't help that the man at the helm has spent a lot of time in front of the camera, but so little time directing feature films. Sadly…it shows.
The film wanders from scene to scene, as dull as a car with a dead battery, with pacing slack enough to put even hard-core genre fans right to sleep. Even the actors (who have nothing to work with here) appear to be struggling to stay awake, dragging through page after page of dreary, deadpan dialogue.
Perhaps the film thought that cracking a joke would interfere with its goal of having quirky and oddball qualities…that it would lose its individuality and uniqueness if it had become funny or interesting.
Indeed, Griff the Invisible tries so hard to be different that it relies on "being different" to propel the story forward. It doesn't seem to understand that, in the world of cinema, being unique is the result of a story…not the basis of a story.

Griff the Invisible doesn't just need a rewrite…it needs to start from scratch. Whoever gave this film the green light should have thrown the original script in the nearest trash can and handed the filmmakers a blank sheet of paper. It's that painful to watch.
Portions from Freebase, licensed under CC-BY and Wikipedia licensed under the GFDL