Description
[from Freebase]
The Joneses is a 2009 American film written and directed by Derrick Borte. It stars Demi Moore, David Duchovny, Amber Heard, and Ben Hollingsworth. It premiered at the 2009 Toronto International Film Festival on September 13, 2009. Roadside Attractions later purchased the United States theatrical distribution rights. It had a limited release on April 16, 2010 and was released on DVD & Blu-ray On August 10, 2010. It received a theatrical release in Mexico on August 20, 2010. Kate, Steve, Mick, and Jenn Jones move into a high income suburb under the pretense of being a typical family relocating due to the changing nature of Kate and Steve's careers. In reality, Kate is the leader of a team of stealth marketers, professional salespeople who disguise product placement as a daily routine. Their clothing, accessories, furniture, and even food are carefully planned and stocked by various companies to create visibility in a desirable consumer market. While Kate's team is highly effective, Steve is new to the team, Jenn is a closet nymphomaniac with a penchant for hitting on her fake fathers, and a 30-day review is fast approaching.
Review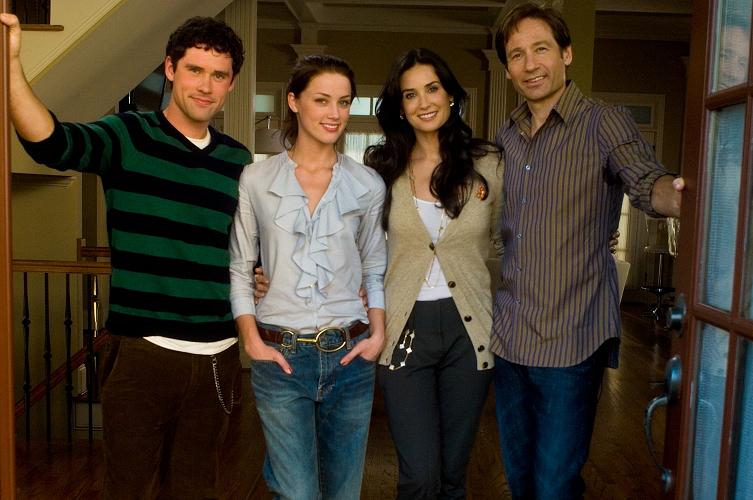 We've all witnessed product placement in films. The subtle use of a Pepsi can or a fleet of BMWs can lend financial support to a project, alleviating bills through symbiotic corporate sponsorship. But until I saw Derrick Borte's tongue-in-cheek satire The Joneses, I'd never witnessed extreme product placement acting as the backbone of a story, as the framework upon which the entire plotline rests.
Of course, the omnipresence of high-end merchandise happens to be Borte's point. The Joneses are perfectly manicured, fully equipped suburbanites who move into a pristine Atlanta residence — we call them "McMansions" in the South — and immediately prompt neighbors to break the ninth and tenth commandments. (Look them up, heathens.)
Kate (Demi Moore) dresses in designer clothes, wears the most fragrent perfumes, and shows off glamorous jewelry her husband, Steve (David Duchovny), hands out as "I love you" gifts. As for Steve, he walks the country club golf course sporting the latest clubs, making most members jealous. And the Jones children, Jenn (Amber Heard) and Mick (Ben Hollingsworth), are no slouches in the perks department, luring hangers-on by flashing high-tech bling in the school hallways and at posh neighborhood parties.
The punchline of The Joneses is that the family isn't a family at all. They're employees, paid by a nameless company to stimulate sales of newly released merchandise. But pretending to be a harmonious unit has created more than a few dysfunctions. Jenn, for instance, wants to sleep with her "father," Steve. He'd prefer to sleep with Kate, though she's far more interested in hitting her monthly quota. And Mick, who is gay, can't pretend to like girls anymore just to close a sale.
The highest compliment I can pay Borte — and, by extension, his actors — is that the premise of The Joneses is shockingly believable. Duchovny and Moore play the material with such straight faces that they easily convince me companies actually do plant ringers amongst us to influence our purchasing decisions and move select product.
The Joneses works as an interesting cross of market research and social experimentation. It comments on society's need to be defined by our possessions, playfully jabs at the utilization of actors as salesmen (when, in fact, acting is just that … sales), and eventually succumbs to the soap-opera machinations that linger under the surface but can't be quelled forever.
The lesson, ultimately, is that in today's day and age, it's impossible to keep up with the Joneses. But if you tire of trying, someone standing right behind you on the social ladder will gladly shove you aside and take your place in the race.
Portions from Freebase, licensed under CC-BY and Wikipedia licensed under the GFDL