Inglourious Basterds (2009)
Description
[from Freebase]
Inglourious Basterds is a 2009 war film written and directed by Quentin Tarantino and starring Brad Pitt, Christoph Waltz and Mélanie Laurent. The film tells the fictional story of two plots to assassinate the Nazi Germany political leadership, one planned by a young French Jewish cinema proprietor (Laurent), and the other by a team of Jewish-American soldiers led by First Lieutenant Aldo Raine (Pitt). The title of the film was inspired by director Enzo G. Castellari's 1978 Macaroni Combat film, The Inglorious Bastards. Development began in 1998, when Tarantino wrote the script. The director struggled with the ending and chose to hold off filming and moved on to direct the two-part film Kill Bill. After directing Death Proof in 2007 (as part of the double feature Grindhouse), Tarantino returned to work on Inglourious Basterds. The film went into production in October 2008 and was filmed in Germany and France with a production budget of $70 million. Inglourious Basterds premiered on May 20, 2009 at the 62nd Cannes Film Festival, where it competed for the Palme d'Or.
Review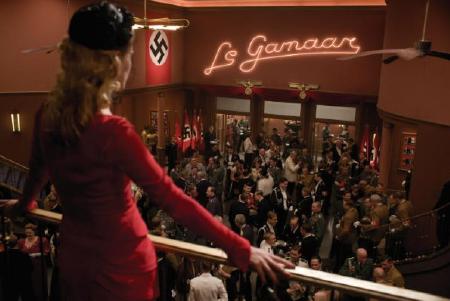 Movies rewrite history all the time, but it takes a particular kind of chutzpah to do what Quentin Tarantino has done with his fascinating, frustrating masterpiece Inglourious Basterds (purposefully spelled wrong, for added cool cred). Interweaving several stories, including a plot to kill Hitler, the man responsible for Pulp Fiction and Jackie Brown has created his own, wholly unique view of WWII, casting aside well-established historical facts, along with genre rules and narrative conventions. Many may be anticipating a hyper-violent, post-modern Dirty Dozen. Instead, we get an insane destruction of the war film itself.
Although the film's main story centers on Lt. Aldo Raine (Brad Pitt) and his group of 'Basterds' — all Jewish, all dedicated to killing and scalping Nazis – Tarantino takes some characteristic detours: While Raine leads his men along the back roads and enemy encampments of Nazi-occupied France, spilling gallons of blood along the way, infamous 'Jew Hunter' Col. Hans Landa (Christoph Waltz) roams the countryside, trying to sniff out farmers secretly sheltering Jews. Meanwhile, Shosanna Dreyfus (Mélanie Laurent), a survivor of one of Landa's brutal attacks, makes plans to use her Paris movie theater as a backdrop for revenge. A third subplot revolves around the British staging an assassination attempt involving famed German actress Bridget von Hammersmark (Diane Kruger) and the premiere of Joseph Goebbels's (Sylvester Groth) latest work of cinematic propaganda. Naturally, the Basterds wind up involved with them all.
An electrifying revenge fantasy, Inglourious Basterds manages to be both unabashedly original and referential. On one level, its look, sound, and sensibility recall the days when John Wayne would put on the uniform, adjust his gait, and guide the latest list of names through their back-lot battle paces. Unlike the grim and gore-soaked precision of Saving Private Ryan, or the meditative realism of Letters from Iwo Jima, this is a journey back to the days of opulent sets, perfectly framed confrontations, and casual, almost off-hand moments of brutality.
But there's more going on here, and for all its aforementioned old school pleasures, Inglorious Basterds also displays Tarantino's penchant for stylistic playfulness. The filmmaker clearly believes in the power of images to undermine evil: Many of the movie's main set-pieces take place in, or involve conversations about, Ms. Dreyfus' old world cinema, which becomes the location for the entire last-act stand off. As the director tosses in stylistic riffs on the French New Wave and Spaghetti Westerns, we sense that this is the former video store clerk doing what he does best – mixing styles, bucking expectations, and literally rewriting the rules as he goes.
The entire cast is terrific. We can't wait for the next homespun hillbilly bon mot to come out of Pitt's crocked craw, and both Laurent and Kruger are welcome lethal ladies. But the real showstopper here is Christoph Waltz. Winner of the Best Actor award at the Cannes Film Festival and relatively unknown outside of his native Austria, he more or less steals the film. His performance is so good, his personality so engaging, that even when he suddenly turns off the charm and turns up the terror, we still can't quite get enough of this Third Reich scumbag.
Inglourious Basterds is a World War II film fantasy built out of the best bits of Tarantino's fervent imagination — talky, visionary, slightly off balance, and wrapped up neatly after 153 fantastic minutes. It definitely takes a certain amount of audacity to repurpose the past for your own entertainment aims. But 'audacious' doesn't even begin to describe Quentin Tarantino and his latest epic.
The DVD spans two discs, featurin extended and alternate scenes, the complete Nation's Pride, a roundtable discussion with Tarantino, Pitt, and Elvis Mitchell, and several making-of featurettes.
Why must they always order Royale with Cheese?
Portions from Freebase, licensed under CC-BY and Wikipedia licensed under the GFDL