Description
[from Freebase]
Friday the 13th is a 2009 American slasher film directed by Marcus Nispel and written by Damian Shannon and Mark Swift. It is a reboot of the Friday the 13th film series, which began in 1980 and the twelfth Friday the 13th film in total. Nispel also directed the 2003 remake of Tobe Hooper's The Texas Chain Saw Massacre (1974), while Shannon and Swift wrote the screenplay for the 2003 crossover Freddy vs. Jason. Friday the 13th follows Clay Miller (Jared Padalecki) as he searches for his missing sister, Whitney (Amanda Righetti), who while camping in the woods at Crystal Lake is taken by Jason Voorhees (Derek Mears). The concept for the 2009 film originally started as an origin story, but the film evolved into a reimagining of the first four Friday the 13th films. Along with bringing the film back to its tonal roots, Jason was designed as a leaner and faster killer, with a backstory that could provide a little sympathy for the character, but not enough that he would lose his menace. Although this film reboots the continuity, Jason's iconic hockey mask, which was not introduced until the third film in the series, is acquired through the progression of the film.
Review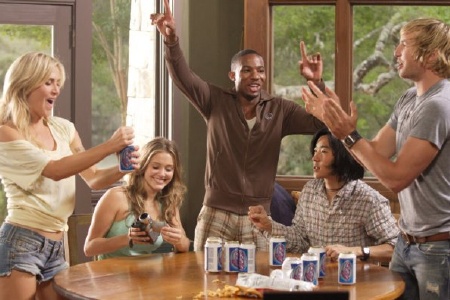 Of all the horror film icons, Jason Voorhees is directly connected to the '80s explosion in home video entertainment. Alongside Wes Craven's dream demon Freddy Krueger, VHS and the ready availability of product allowed an entire generation to endlessly soak in the scares produced by these movie monsters. Naturally, the idea of remaking either franchise has longtime fans concerned. For every successful update, there's a dozen failed revamps. Luckily, Marcus Nispel, the director behind the excellent 2003 Texas Chainsaw Massacre redux was on hand to helm the new adventures of Camp Crystal Lake's resident legend — and the results are excellent indeed.
Twenty years ago, an insane cook named Pamela Voorhees (Nana Visitor) killed several camp counselors. She blamed the young people for the drowning death of her handicapped son, Jason. Fast forward two decades and a group of college kids return to the notorious Crystal Lake area. They are looking for a secret cash crop of marijuana. What they get instead is a fatal run-in with an angry, adult version of the Voorhees boy (Derek Mears). Six weeks later, Clay Miller (Jared Padalecki) comes calling, looking for a sister (Amanda Righetti) who went missing with the previous group. Meeting up with rich kid Trent (Travis Van Winkle), his gal pal Jenna (Danielle Panabaker), and a group of their drunken friends, he hopes for some help in his search. Instead, Jason returns once again, still angry, still killing everyone in his path.
The best word to describe the reboot of the seminal slasher series Friday the 13th is 'reverential.' Brutal, visceral, sadistic, and electrifying would also work. Director Nispel proves that he should be the first name on everyone's horror remake list. He does such a wonderful job of setting tone and establishing atmosphere that all the film has to do is function in the standard slice and dice mannerisms and it should work. What we don't expect is the emotional arc, the character impact, and most importantly, the reconfiguration of Jason's mythos. Everyone knows about the physically deformed boy who saw his mother beheaded and afterwards goes on a ten-film killing spree. What you might not know is how aggressive and animalistic this version of the mass murderer really is.
This is a Jason who burns people alive, who keeps hostages, who hunts like a laser-guided predator and revels in his creepshow carnage. As played by Derek Mears (under a disgusting make-up job), this is the hockey-masked marauder Version 2.0. No zombie-like lumbering. No hit or miss killshots. Just deadly aim and pure, life-ending results. Nispel allows time for the crimes to kick in. We get several minutes of mindless chatter between the characters, all of whom could be interchangeable stock options from Central Casting. Only Padalecki stands out as the desperate brother, and Van Winkle gets the biggest laugh when his true cowardly nature comes 'shrieking' forth. Elsewhere, we get the standard stoners and sexed up co-eds, each one poised to become the next number in Jason's building body count.
As he did with Texas Chainsaw Massacre, Nispel takes this material and its occasional convolutions very seriously. He's not out to wink at the audience or revel in a series of obsessives-only in-jokes (though there are some here). No, this Friday the 13th may not have an amazingly manic Betsy Palmer or Tom Savini's autopsy-level gore, but what it does contain is enough psychological underpinning and cold-blooded cruelty to leave even the most seasoned fright fan breathless. Twenty plus years ago, Camp Crystal Lake and its resident mutant made many a Saturday night in front of the VCR memorable. While the original Friday the 13th was goofy fun, it was certainly no classic. This remake is.
The DVD includes deleted scenes and a making-of featurette.
Shoulda had a V8.
Portions from Freebase, licensed under CC-BY and Wikipedia licensed under the GFDL