Review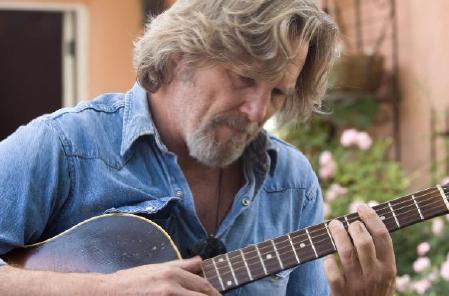 Nearly every part of Bad Blake's (Jeff Bridges) life is on a fast-paced collision course with destruction. Professionally, he's a mess. While he used to enjoy an illustrious career as a country music star, it has been a while since those days of glory. Now 57-years-old, his songs are outdated and fans are few and far between. He can no longer land deals at major performing venues. Now, he's stuck performing with teen bands in small town bowling alleys.
Though his agent still works hard to market Blake, he needs new music to revive his career. But Blake has no ideas. At this point, he can only feel jealously and resentment as he watches the careers or other musicians sail past his own. One in particular (Colin Farrell) tries to hire Blake to write him some new songs for his band. Blake needs the money, but cannot lower himself to working for a former protege.
His personal life is in ruins, too. Four marriages. An estranged son whom he hasn't seen or talked to in decades. Then there's the alcohol. Even though he can barely afford the drinks at bowling alley bars, Blake has an unquenchable thirst for booze. A full-blown alcoholic, sometimes he fails to make it through a performance without running backstage to puke his brains out. The man is a train wreck.
A silver lining appears when, as a favor to one of his fans, Blake agrees to be interviewed by a young and ambitious newspaper reporter named Jean (Maggie Gyllenhaal). She finds herself mysteriously attracted to the musician, and they soon find themselves falling for each other. As the single mother of a 4-year-old, however, she is hesitant and fearful to enter a relationship with a man who has been around the block as many times as Bad Blake. Can he change his ways at this point?
In a role that he was seemingly born to play, Jeff Bridges completely embodies Bad Blake. He gives the character a modest, subtle edge. Since the story begins after Blake has hit rock bottom, Bridges avoids extreme emotional ranges as the character, at this stage in his life, focuses instead on numbing his feelings rather than expressing them. Yet, the audience can still sense a passionate, charming man in Blake, a man who still loves his music. Though, he has lost his way so many times, he doesn't even bother with a map anymore. It is difficult to imagine anyone else playing Blake.
Based on Thomas Cobb's stirring novel, Crazy Heart plays a surprisingly solemn melody, not a loud rock opus like one might expect about a rough-around-the-edges country music star. The film packs a huge emotional punch, and captivates mercilessly. But it utilizes a sneak attack instead of an all-out assault. This provides fascinating contrast to last year's similarly themed but much more aggressive film The Wrestler.
Actor Scott Cooper makes his debut as writer/director, but inexperience is not obvious here. He takes his on-camera familiarity behind the lens and has an unusually strong connection with the actors, evident by their vulnerability and connection with the camera. Both Jeff Bridges and Maggie Gyllenhaal bare their emotions on screen, and the results are startling. Delivering raw, intense, and humble performances, the lead actors make strong cases for awards season consideration.