Description
[from Freebase]
The Longshots is a 2008 biopic family comedy-drama film sports movie based on the real life events of Jasmine Plummer, the first female to participate in the Pop Warner football tournament. The film stars Ice Cube and Keke Palmer, their second movie together after Barbershop 2: Back in Business. It is directed by Limp Bizkit frontman Fred Durst. The movie starts out in Minden, Illinois, a former factory town with no money and a pathetic football team. Curtis Plummer, a down-and-out former football player is going nowhere, until he meets his niece Jasmine, the daughter of his no-good brother. Jasmine has worn her father's watch ever since he left five years ago, in the hopes that he will return. Her mother Claire asks Curtis to take care of Jasmine after school, because Claire has to work at the town diner. Curtis realizes Jasmine has a talent for throwing a football, which he nurtures into a passion for the game. He then persuades her to try out for the town's Pop Warner football team, the Minden Browns, because he thinks it would be good for her and the team. The team, including the coach, are against it, but her abilities gain her a spot on the team.
Review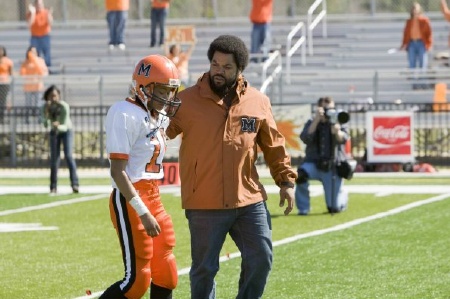 Almost every year, Hollywood welcomes the college and pro football seasons by programming inspirational gridiron dramas that ask us to join The Program, turn on some Friday Night Lights, or simply Remember the Titans. After all, we aren't just movie buffs, We Are Marshall.
This season's no different as we take the 'field' for The Longshots. The film is inspired by the true story of Jasmine Plummer who, at age 11, became the first female to play for a Pop Warner football team. With Plummer at quarterback, the Harvey Colts of Illinois reached the 2003 national championships in Miami, Florida.
Keke Palmer, of the similarly motivational Akeelah and the Bee, steps comfortably into Plummer's cleats. She is a headstrong and vulnerable young actress capable of being moody in one scene and fiery in the next. Palmer shares good chemistry with Ice Cube as the wayward uncle who coaches her on buttonhooks, end routes, and Hail Mary throws.
Longshots marks the auspicious feature-film debut of former Limp Bizkit frontman Fred Durst. His gentle, rustic movie is nothing like his aggressive music, and that's probably intentional. Durst makes the most of his leads, and largely avoids the clichés that usually choke these well-meaning productions.
But it doesn't last. The fourth quarter of Longshots plummets from sentimental to sappy, as absentee fathers show face, the big game comes down to a final play, and Plummer's accomplishments inspire not just her team but her entire town (deadbeat citizens can be seen painting store fronts and sweeping sidewalks as they smile and talk about 'last week's game'). Yuck.
Longshots had a better shot at finding a broader audience when plot turns like that were assigned to the bench.
The DVD includes deleted scenes, a making-of featurette, two interviews (one with Durst, one with Cube), and a profile of the real Jasmine Plummer.
Celebrate in the end zone and it's a $50,000 fine.
Portions from Freebase, licensed under CC-BY and Wikipedia licensed under the GFDL