Description
[from Freebase]
Leatherheads is a 2008 American sports comedy film from Universal Pictures directed by and starring George Clooney. The film also stars Renée Zellweger, Jonathan Pryce, and John Krasinski and focuses on the early years of professional American football. Jimmy "Dodge" Connelly (George Clooney) is captain of the Duluth Bulldogs, a struggling professional American football team circa 1925. Dodge is determined to save both his team and pro football in general when the players lose their sponsor and the league is on the brink of collapse. He convinces Princeton University's college football star, Carter "the Bullet" Rutherford, to join the Bulldogs, hoping to capitalize on Carter's fame as a decorated hero of the First World War (like Alvin York, he single-handedly captured a large group of German soldiers). In addition to his legendary tales of combat heroism, Carter has dashing good looks and unparalleled speed and skill on the field. As a result of his presence, both the Bulldogs and pro football in general begin to prosper. Chicago Tribune newspaper reporter Lexie Littleton becomes the object of the affections of both Dodge and Carter.
Review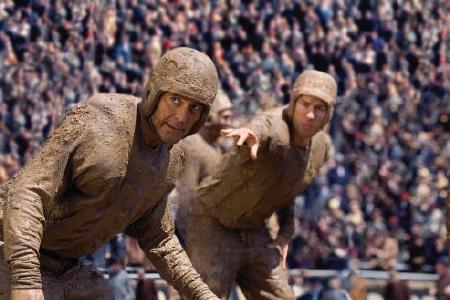 With his nonchalant sophistication and relaxed charm, George Clooney often gets compared to the icons of Hollywood's Golden Age, from Cary Grant to Clark Gable. But as Leatherheads demonstrates, the leading man really wants to be the next George Cukor.
A football comedy disguised as a love-triangle-laugher, Leatherheads is a snappy throwback fueled by the filmmaker's affection for a bygone era. Clooney's third directorial effort is his lightest film so far, which only means he isn't flogging the fear-mongering tactics of Sen. Joseph McCarthy (Good Night and Good Luck) or dissecting the deranged brain of a game show host who believes he's a CIA operative (Confessions of a Dangerous Mind).
Leatherheads keeps the beat of a vintage screwball comedy. It's aided immensely by Duncan Brantley and Rick Reilly's clever pitter-patter dialogue, production designer Jim Bissell's exquisite period detail, and composer Randy Newman's jangly ragtime score (look for his cameo as a piano player in a saloon).
In 1925, pro football's determined Duluth Bulldogs can't draw flies. To stave off financial ruin, team captain Dodge Connelly (Clooney) convinces college star and popular wartime hero Carter Rutherford (affable John Krasinski) to join the team. Winning isn't their only problem. Rutherford's courageous backstory — he reportedly convinced a battalion of German soldiers to set down their weapons — is being investigated by ace reporter Lexie Littleton (Renee Zellweger).
Clooney's at his best when bouncing razor-sharp lines off a flexible co-star, be it Jennifer Lopez in Out of Sight or Catherine Zeta-Jones in the underrated Intolerable Cruelty. Even his chemistry with cohort Brad Pitt threatens to turn the Ocean's franchise into a full-blown romantic serial. So it's no surprise that Leatherheads kicks into gear only after Clooney is paired with proper sparring partner Zellweger about 15 minutes into the film.
From there, Leatherheads fluctuates between appealing genres. At times it's a tried-and-true romantic comedy. Then it swings over to slapstick territory, attempting a frivolous Keystone Kops routine that would make Abbott and Costello proud. Clooney commits to the football elements of his story but avoids the major sports clichés. Even the big game — once it finally arrives — remains deadlocked for its duration, which offers an intentionally scathing commentary on professional sports. Clooney seems to be saying that the introduction of rules handed down by the league's dowdy commissioner (Peter Gerety) sapped the fun from the game.
That's assuming Leatherheads has any deeper messages at all, which in fact it really doesn't. This is a lark, an homage to movies Clooney has gone on record as saying he adores. He's so in tune with these storied comedies, it might hurt his film's box-office receipts. Not that Clooney's directorial efforts ever break the bank; Confessions nabbed $16 million while Good Luck nearly doubled that with $31 million. But Leatherheads hangs so close to films produced during a forgotten age that audiences who don't recall how quick-witted screwball comedies used to be might not fully appreciate it (or even care to).
The DVD includes deleted scenes, several making-of featurettes, and a commentary track with Clooney and producer Grant Heslov.
It had a better ring than Mudbodies.
Portions from Freebase, licensed under CC-BY and Wikipedia licensed under the GFDL