Description
[from Freebase]
Body of Lies is a 2008 American spy film directed by Ridley Scott. Set in the Middle East, it follows the attempts of the CIA and Jordanian Intelligence to catch "al-Saleem", a fictional jihadist terrorist. Frustrated by their target's elusiveness, differences in their approaches strain relations between a CIA operative, his superior, and the head of Jordanian Intelligence. William Monahan's screenplay, based on the novel of the same name by David Ignatius, examines contemporary tension between Western and Arab societies and the comparative effectiveness of technological and human counter-intelligence methods. The film was shot largely on location in the United States and Morocco, after authorities in Dubai refused permission to film there because of the script's political themes. The film's photography sought to emphasize the contrast between the gold & dust of the desert and Arab cities, and the blue & gray of bureaucracy and Washington. Accordingly, they used natural light wherever possible. Marc Streitenfeld arranged the musical score.
Review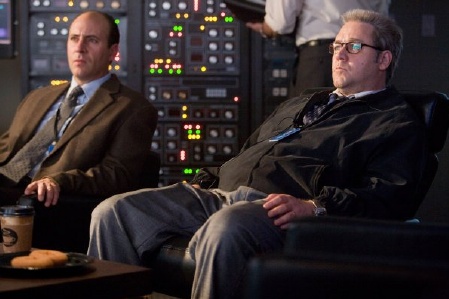 No matter their talent, actors, directors, producers, and editors will always have difficulty overcoming a flawed script, and William Monahan's Body of Lies screenplay is broken beyond the point of repair. A bewildering mishmash of double-crosses, cover-ups, and clichés, Monahan's treatment unfortunately undermines some terrific performances and a solid outing for director Ridley Scott.
Lies is based on Washington Post columnist David Ignatius' 2007 novel about CIA agent Roger Ferris (Leonardo DiCaprio), a well-trained operative on a deep-undercover assignment to track the elusive Al Qaeda terrorist leader Al-Saleem (Alon Abutbul). Dubbed 'the white whale,' Al-Saleem has been plotting suicide bombings on European and American soil to avenge the blood spilt by U.S. and U.K. troops in Iraq and Afghanistan.
Ferris has two known allies in his fight. Ed Hoffman (Russell Crowe), head of the CIA's Near East division, dictates directives via cell phone from his Langley office. Meanwhile, on the ground in Jordan, Ferris cooperates with the diplomatic Hani (Mark Strong), whose connections to the Middle Eastern militia make him the Don Vito Corleone of our war on terror.
Lies deals in doom-and-gloom doses of reality served to an audience which currently receives more than enough bad news by staying at home and watching the evening news. We're warned that our enemies in the Middle East grow smarter each day, adopting outdated methods of communication so they can stay off the grid and avoid technology-dependent CIA trackers. The film's position on Iraq wavers. Ferris complains that we're not supposed to be there. Hoffman, who embodies the Patriot Act, argues that since we are there already, it's okay to do whatever it takes to complete the mission. Ferris goes along with that extreme logic, then feels remorse after he sells out an informant or betrays Hani's trust.
As the title suggests, Lies also dispenses untold falsities, misdirections, half-truths, and deceptions. Monahan has penned a land mine of confusion that blows this thriller to smithereens. Allies shift, rules constantly change, covers are blown, and safe houses are exposed. DiCaprio barks at Crowe for 'interfering' in his mission, though we're often unclear what the mission was, how Crowe disrupted it, or even why he prevented Leo from accomplishing said goal. The only truthful thing I can tell you is that I never understood exactly what was happening, to whom it was happening, or even why.
At least some came here to play. Lies features great work by director of photography Alexander Witt (American Gangster, Casino Royale), who peers through surveillance cameras and climbs to satellite-level heights to scan the arid deserts of Jordan (really Morocco). DiCaprio and Crowe are excellent, though each do completely different things for the good of the film. It's a beautiful sight seeing Crowe pack on pounds and hunch his dominant frame to portray a good-old-boy bureaucrat. Both megastars are upstaged by Strong, however. His Middle Eastern mafioso is silky smooth, intense, intelligent, and deadly. Look for him in an equally intimidating role as part of Guy Ritchie's cracking crime caper RockNRolla.
The DVD includes a digital copy of the film.
At least computers don't lie.
Portions from Freebase, licensed under CC-BY and Wikipedia licensed under the GFDL