Description
[from Freebase]
The Visitor is a 2008 American drama film written and directed by Thomas McCarthy and produced by Michael London and Mary Jane Skalski. Executive producers were Jeff Skoll and Omar Amanat. The screenplay focuses on a lonely man in late middle age whose life changes when he is forced to face issues relating to identity, immigration, and cross-cultural communication in post-9/11 New York City. For The Visitor, McCarthy won the 2008 Independent Spirit Award for Best Director, while Richard Jenkins was nominated for Best Actor in the 2008 Academy Awards. Walter Vale (Richard Jenkins) is a widowed Connecticut College economics professor who lives a fairly solitary existence. He fills his days by sometimes taking piano lessons in an effort to emulate his late wife, a classical concert pianist, and infrequently works on a new book. When he is asked to present a paper at an academic conference at New York University, he is not enthusiastic to make the trip, given he is only the nominal co-author and has never even read the complete work. Charles (Michael Cumpsty), his department head, insists and Walter is forced to attend.
Review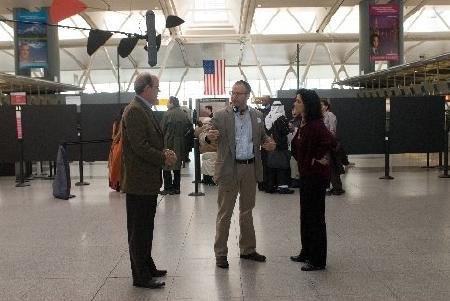 The post-9/11 U.S. has always seemed like a grieving widow waiting for the other fatalistic shoe to drop. Part of this comes from a government selling fear as the foundation for its continued power. The other stems from the media's mindless grind of less-than-soothing imagery. Yet what many citizens fail to understand is that people more than politics are affected by our nervous kneejerk reactions. Such a sentiment forms the basis of Thomas McCarthy's intriguing new film, The Visitor.
For Walter Vale (Richard Jenkins), existence is a stifled sleepwalk of commitments and complaints. He hates teaching. He hates faculty politics. He especially hates the lonely life he leads as a widower. His wife long dead, Vale just can't find a purpose. Forced to travel from his new home in Connecticut to his old apartment in New York City to present a paper, he discovers two strangers living there. As illegals, Arab Tarek (Haaz Sleiman) and African Zainab (Danai Jekesai Gurira) have no real place to go, so Vale reluctantly lets them stay. When the Syrian Tarek is wrongfully arrested and detained, our quiet professor becomes his champion. The arrival of Tarek's mother (Hiam Abbass) from Michigan makes matters more complicated.
While it takes a while to get into its groove, The Visitor ends up a very engaging social commentary. It's a movie that offers big ideas in the smallest ways possible. It's almost as if McCarthy contemplated all the important issues framing our current world and the War on Terror and decided to take the most subtle and suggestive path toward explaining them. His wonderful The Station Agent offered the same approach — patient, deliberate, contemplative. As it builds, allowing minor moments to substitute for grandiose pronouncements, we can literally see McCarthy's premeditation.
Of course, he requires a cast to deliver his restraint with the necessary amount of individual insight. While he makes for an unusual lead, Jenkins is very good as Vale. He has to walk a very thin line between being inert and engaging. Even worse, he's saddled with a strange first act epiphany in which he decides to takes lessons on a tablah-type drum from Tarek. Still, he settles in nicely, using his educated outsider's deliberate white male beats to bring a level of honesty and openness to the role. As the accidental squatters, Sleiman and Gurira initially have a too-beautiful, Benetton quality to their presence. But once we get to know them, and their struggles to gain acceptance in an increasingly suspect society, the necessary nuances appear.
Perhaps the most compelling character is reserved for the last act. As Tarek's mother Mouna, Abbass is brilliant, never overplaying the stoic immigrant part. She comes across as thoughtful and levelheaded, wounded but still able to walk proudly among the people who would gladly pigeonhole her because of her race. She flawlessly represents the suppressed passions this movie thrives on. While McCarthy is busy playing everything close to the vest, Abbass is letting us peek inside said garment.
Unfortunately, The Visitor may not sit well with either side of the still-simmering argument. For the more liberal-minded, the film will be too passive. It doesn't stand up and shout for its positions. On the other hand, it paints all newcomers to our land as innocents who would never contemplate an act of violence for an ambiguous agenda. Reality has clearly revised that naïve notion. While it's clear where McCarthy's ethics lie, the lack of brow-beating bombast will confuse many. The Visitor is not really a film you enjoy, per se. It's more like a feeling you get used to before finally accepting.
The DVD includes two making-of featurettes, a commentary track, and deleted scenes.
Just visiting.
Portions from Freebase, licensed under CC-BY and Wikipedia licensed under the GFDL