Description
[from Freebase]
The Sentinel is a 2006 crime thriller film directed by Clark Johnson about a veteran United States Secret Service bodyguard who is suspected as a traitor after an attempted assassination of the president reveals that someone within the Service is providing information to the assassins. The film stars Michael Douglas as the veteran agent, Kiefer Sutherland as his protégé, Eva Longoria as a rookie Secret Service agent, and Kim Basinger in the role of the First Lady. It is based on the novel of the same name by former Secret Service Agent Gerald Petievich, the author of the book To Live and Die In L.A., also made into a film. It was filmed in Washington, D.C. and in the Canadian towns of Toronto and Kleinburg, Ontario. Pete Garrison (Michael Douglas) is a Secret Service agent and one of the personal bodyguards for First Lady of the United States Sarah Ballentine (Kim Basinger), with whom he is having an affair. He is one of the oldest and most experienced agents, having been involved in saving Ronald Reagan's life during the Reagan assassination attempt. A fellow agent and close friend, Charlie Merriweather (Clark Johnson), is murdered.
Review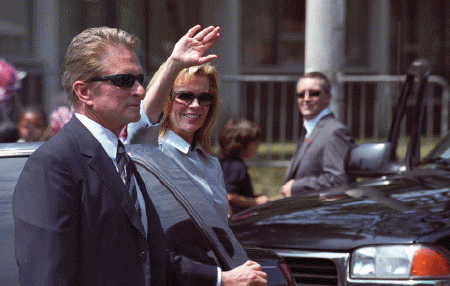 Directed by Clark Johnson (S.W.A.T.), The Sentinel stars Michael Douglas and Kiefer Sutherland as former friends forced to become allies once it's revealed that an unknown mole has infiltrated the Secret Service. Pete Garrison (Douglas) is a veteran agent drawn deeper into the conspiracy after his affair with the President's wife (Kim Basinger) attracts the attention of lead investigator David Breckinridge (Sutherland). Eva Longoria co-stars as Breckinridge's sexy new partner and Garrison's protégé.
You would think that Longoria's character would have mixed feelings about being in the middle of a feud but Johnson and screenwriter George Nolfi sidestep that conflict and focus instead on the inconveniences that come with leering advances from her co-workers. Since Douglas and Sutherland are both playing to type – the former in stoic, manly mode; the latter with Jack Bauer intensity – the movie only kicks into overdrive when Garrison goes on the lam to save the President.
Portions from Freebase, licensed under CC-BY and Wikipedia licensed under the GFDL