Description
[from Freebase]
Invincible is a 2006 sports film directed by Ericson Core set in 1976. It is based on the true story of Vince Papale, who played for the Philadelphia Eagles from 1976–78. Mark Wahlberg portrays Papale and Greg Kinnear plays Papale's coach, Dick Vermeil. The movie was released in the US on August 25, 2006. To spice things up for his organization, newly-hired Eagles head coach Dick Vermeil decides to hold open tryouts in 1976 for a spot on the pro football team's roster. Vince Papale is a 30-year-old bartender who has just lost his part-time teaching job. He had gone to Saint Joseph's University (then known as St. Joseph's College) on a track scholarship. Disgusted with his professional failure his wife, Sharon (Lola Glaudini), abruptly leaves him, taking all of their furniture with her and leaving a note saying that he never will be anything in the world. With the support of all his friends from the neighborhood, Papale goes out for an open tryout practice; catching the attention of coach Vermeil, he is invited to come along to training camp.
Review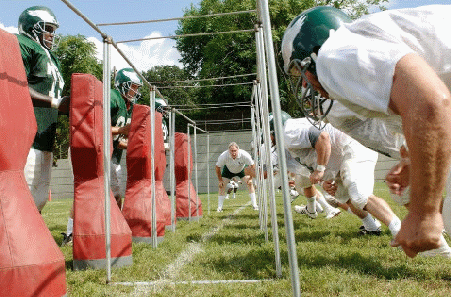 Following the disappointing 1975 season that saw the team finishing 4-10, the Philadelphia Eagles needed assistance and weren't picky about where the help would come from. In a move characterized as part desperation, part publicity stunt, the Eagles organization held open tryouts in the summer of '76. They attracted hundreds of overweight, under-qualified Philly fanatics and one unassuming NFL hopeful blessed with natural abilities.
Invincible tells the predominantly true story of down-on-his-luck bartender Vince Papale (Mark Wahlberg), who attended the Eagles' free session and impressed newly appointed head football coach Dick Vermeil (Greg Kinnear). Reports vary, and some think Papale received a personal session with Vermeil based on his already decent play for the Philadelphia Bell of the World Football League, but either way, Papale eventually accepted an invitation to the Eagles' training camp and half expected to be cut after the first week. To his surprise – and to his jaded teammates' constant chagrin – Papale battled for a roster spot and provided the discouraged Eagles fan base with a reason to care about the battered franchise.
Papale is the classic underdog, and first-time director Ericson Core takes the necessary steps to ensure that the film's hero ascends to his proper pedestal. A former cinematographer, Core pays special attention to the streets, alleys, and grimy watering holes of Philadelphia, knowing they add as much (if not more) to Papale's character as any conventional locker room chat. The blue-collar Invincible soaks up local flavor and sweats working-class determination. By including gratuitous shots of Papale jogging through his inner-city neighborhoods, Core clearly indicates his intentions to wrestle the title of Top Overachiever from Philly's other sports son, Rocky Balboa – and he temporarily succeeds, at least until Sylvester Stallone releases the sixth and final Rocky in December.
About the only person not excited by Papale's remarkable rise is Wahlberg. Though physically prepared for the scruffy film's hard-hitting football sequences, Wahlberg brings a quarter of the energy and charm to scenes shared with his goombah pals and his beer-slinging, Giants-loving bartender gal (Elizabeth Banks). These characters could have been dismissed as cogs in the motivational movie machine, but writer Brad Gann goes to great lengths to illustrate how a labor strike hits these men harder than a linebacker. Papale provided these good-natured bums with an escape from their daily hardships. Wahlberg had an opportunity to channel that energy, yet even as Papale's fortunes turn, the actor's enthusiasm stays predominantly level.
Wahlberg's even keel doesn't hinder Invincible, which still manages to be extremely likable despite its conventions. About the only people bound to find fault are die-hard Giants, Cowboys, and Redskins fans, all of whom will tire almost immediately of the film's unbridled Eagles adoration.
DVD extras include two audio commentaries (including Papale) and a documentary about Papale.
You red dudes are goin' down!
Portions from Freebase, licensed under CC-BY and Wikipedia licensed under the GFDL