Description
[from Freebase]
Flyboys is a 2006 American drama film set during World War I, starring James Franco, Martin Henderson, Jean Reno, Jennifer Decker, David Ellison, Abdul Salis, Philip Winchester, and Tyler Labine. It was directed by Tony Bill, a pilot and aviation enthusiast. The screenplay about men in aerial combat was written by Phil Sears, Blake T. Evans and David S. Ward with the screen story by Blake T. Evans. Themes of camaraderie, racial prejudice, revenge and love are also explored in the film. The film follows the enlistment, training and combat experiences of a group of young Americans who volunteer to become fighter pilots in the Lafayette Escadrille, the 124th air squadron formed by the French in 1916. The squadron consisted of five French officers and 38 American volunteers who wanted to fly and fight in World War I during the main years of the conflict, 1914–1917, before the United States later joined the war against the Central Powers.The film ends with an epilogue that relates each film character to the real-life Lafayette Escadrille figures on which the movie was based.
Review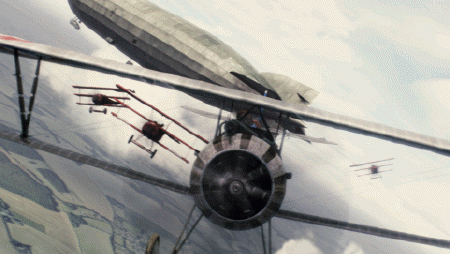 Tony Bill's recounting of the birth of World War I fighter pilots is a tale of historic heroism that, like its characters, triumphs when these men climb into their cockpits and finally fly. James Franco leads the baby-faced pack of soldiers who, in 1914, felt they had something to prove to their girlfriend/father/squad leader/general. The brave adventurers enlist in France's fledgling Lafayette Escadrille, a small group of pilots trained by General Thenault (Jean Reno, Hollywood's go-to French actor), who pioneered an aerial attack in the Great War against Germany. What these boys don't learn before signing on the dotted line is that the Lafayette Escadrille embarks on what are basically suicide missions. Life expectancy of a pilot in the program is three to six weeks.
That doesn't stop former ranch hand Blaine Rawlings (Franco) from pouring his heart into the war effort. Flyboys takes a perversely upbeat approach to combat. The new recruits march past maimed soldiers, yet forget the horrors of war once they spot the royal estate that serves as their barracks. The surviving members of Lafayette Escadrille regroup each evening to carouse in the military base's makeshift watering hole — since they're all on borrowed time, we're told they can't waste precious minutes honoring the dead.
The men of Lafayette Escadrille risk life and limb on scarred battlefields recreated using the finest digital effects available, with director Bill and his effects team rocketing model planes through dizzying aeronautic sequences. Impressive and lethal, these combat scenes make the film truly worth watching.
Portions from Freebase, licensed under CC-BY and Wikipedia licensed under the GFDL