Description
[from Freebase]
Fast Food Nation is a 2006 American/British drama film directed by Richard Linklater. The screenplay was written by Linklater and Eric Schlosser, loosely based on the latter's bestselling 2001 non-fiction book of the same name. Don Anderson (Kinnear) is the Mickey's hamburger chain marketing director who helped develop the "Big One", its most popular menu item. When he learns that independent research has discovered a considerable presence of fecal matter in the meat, he travels to the fictitious town of Cody, Colorado to determine if the local Uni-Globe meatpacking processing plant, Mickey's main meat supplier, is guilty of sloppy production. Don's tour shows him only the pristine work areas and most efficient procedures, assuring him that everything the company produces is immaculate. Suspicious of the facade he's been shown, Don meets rancher Rudy Martin (Kristofferson), who used to supply cattle to the Uni-Globe plant. Rudy and his Chicana housekeeper (Gavia) both assure him that because of the plant's production level, several safety regulations are ignored or worked against; workers have no time to make sure that the manure coming from the intestines stays away from the meat.
Review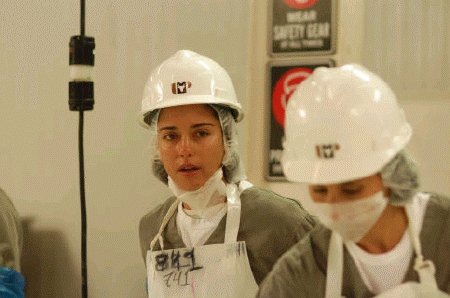 A few weeks ago, it was announced by McDonald's that it would be making an unprecedented push towards 'class.' Amongst other things, it will be installing wireless internet in a large amount of its restaurants and changing décor into a mellow, art-friendly utopia for college students. Basically, it's tired of Starbucks being the only double-edged sword in the drawer. Sounds nice, but these aesthetic changes won't matter much in the face of the horrors depicted in Richard Linklater's Fast Food Nation.
Adapted from the inadaptable investigative best-seller by Eric Schlosser, Fast Food Nation sets a whirlwind of brouhaha in a small Colorado town. The town in question, Cody, doesn't really exist but neither does the fast food chain that started there, Mickey's (God that sounds familiar). Mickey's flagship meal is The Big One, an extra-large patty processed and shipped at a local meatpacking plant that employs illegal aliens like young couple Sylvia (the excellent Catalina Sandino Moreno) and Raul (a shockingly restrained Wilmer Valderrama). The Big One was thought up by Mickey's marketing whiz-kid Don Henderson (Greg Kinnear), who has been sent to Cody to investigate a high amount of fecal matter being found in the product that made him a success.
The sprawling landscape that Linklater creates here conversely addresses the same dystopic culture that he created in his adaptation of Philip K. Dick's A Scanner Darkly. Where Scanner looked at the paranoia and haziness of a future culture of drug-addled 'losers,' Fast Food Nation accepts its paranoia and instead investigates the humanity that goes into what can be best described as an 'accepted conspiracy.' Bruce Willis, giving a killer cameo as the middleman between Mickey's and the meatpacking plant, puts it rather bluntly: 'We all have to eat a little shit sometimes.'
The counter-culture gets personified by the chain's employees, notably Amber (Ashley Johnson) and Brian (Paul Dano). While Brian dreams of holding-up the joint, Amber joins a group of college students (including Avril Lavigne and Thumbsucker's Lou Taylor Pucci) in trying to free the cattle that are penned up along Cody's borders. After the cows won't move and they almost get arrested, Pucci quips, 'Next time, we should bring cattle prods.'
Fast Food Nation isn't perfect by any means. Some might frown upon a few narrative choices that Linklater makes. Kinnear's storyline disappears halfway into the movie and Sylvia's sister Coco (Ana ClaudioTalancón) carries on an affair with a ferocious boss (Bobby Cannavale) that seems a tad two-dimensional. Nevertheless, Linklater's prurient haymaker gets down-and-dirty with the details of its eroding culture war; you have to smirk at the cop roving the hallways at Amber's school and the 'Trapped in the Closet' video paused on Coco's television screen. Following both Clerks II and Morgan Spurlock's devastating Super Size Me, Linklater's inquisitive mini-epic bullies the American way of eating with harsh reality and delicate understanding. Want fries with that?
The DVD includes commentary from Linklater and Schlosser, a making-of featurette, 'The Meatrix' shorts (you can find them online), and an animated short/advertisement called 'The Backwards Hamburger.'
It's what's for dinner.
Portions from Freebase, licensed under CC-BY and Wikipedia licensed under the GFDL