Description
[from Freebase]
Date Movie is a 2006 American parody film, which was directed by Aaron Seltzer written by Jason Friedberg and Aaron Seltzer, two of the writers of the first Scary Movie. Much of the story line was based on that of the well-known romantic comedy My Big Fat Greek Wedding and Meet the Fockers. It stars Alyson Hannigan, Adam Campbell, Sophie Monk, Jennifer Coolidge, Mauricio Sanchez, Eddie Griffin, and Fred Willard. The film was panned by critics, but did well at the box office. The film was released on DVD on May 30, 2006. There is also an unrated version on DVD. Julia Jones is an obese woman, who dreams of marrying Napoleon Dynamite, but even in her dreams she is rejected. Writing in diary, she thinks she will never find her true love. Julia goes outside and dances to impress men on the streets. It doesn't, as her obesity gets the best of her, with fluid sloshing around inside her rear and breasts; one man even shoots himself in the head with a nail gun when he sees her dancing. Later on, Julia goes to work at her dad's Greek diner. Her dad, Frank, suggests she gets married to someone of the same heritage as her.
Review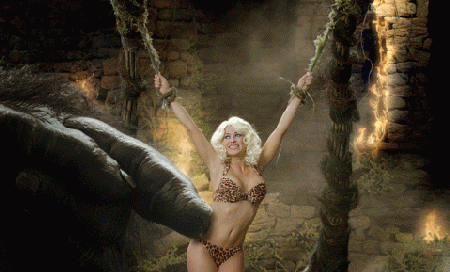 A note to readers: Before Pete Croatto wrote his review for Date Movie, he wrote an impassioned letter (listed below) to Christopher Null, the editor in chief of filmcritic.com. Because of site policy, he was not able to write a review. We at filmcritic.com hope this letter serves as an able substitute.
Dear Chris:
I have written for filmcritic.com for nearly six years and I have not asked for much. After watching Dave Movie, that spoof of romantic comedies from two writers of the Scary Movie trilogy, I beg you to change the site's rating system. I know that the lowest rating is one star, but Date Movie is an exception. It's terrible. It's awful. It's terawful. You have to let me use a scull and crossbones, or a mushroom cloud. Zero stars. Please, boss.
Here's the plot, so just in case you wander into the wrong movie theater you can leave immediately. The groans and moans of audience members are also a good sign. Alyson Hannigan plays a single woman looking for Mr. Right, which serves as a poor excuse to launch a non-stop barrage of scenes parodying romantic comedies and television shows that the writers don't even attempt to connect to each other. Date Movie is like the world's worst audition tape for Saturday Night Live, only it's 80 minutes long, Eddie Griffin is prominently involved, and you've paid money for it.
Here's a partial list of what gets parodied. The Bachelor, King Kong, Say Anything, Meet the Fockers, Meet the Parents, My Big Fat Greek Wedding, Jerry Maguire, The Wedding Planner, Sweet Home Alabama, Kill Bill (???), What Women Want (which Dave Chapelle skewered years ago), Napoleon Dynamite, Hitch, Pimp My Ride, Paris Hilton's infamous car wash commercial, Bridget Jones's Diary, Wedding Crashers, When Harry Met Sally, Pretty Woman, How to Lose a Guy in 10 Days, Along Came Polly, My Best Friend's Wedding, Legally Blonde, Lord of the Rings.
Chris, did you see that list? Instead of taking one movie and cleverly spoofing it (as Mad magazine does), or ribbing the conventions of romantic comedies we get two hack writers throwing stuff on screen to see what sticks. That's bad enough, but the jokes are awful, commenting on what we already know (J. Lo has a big butt, celebrity weddings don't last) or they come smothered in vulgar, misguided humor. Hey, that basketball scene in Along Came Polly was pretty funny, right? (Surely you remember that classic film.) Well, what if this time, Eddie Griffin actually spit out a ball of sweaty chest hair. The cat using the toilet in Meet the Parents was delightful; this time let's make it so the cat puts on a magnificent audio display of farts and plops. And, hey, wouldn't it be funny if Hitch was played by a little person?
Actually, no, it wouldn't. None of it is.
This unbearable mess is comedy at its worst: uncreative, ungrounded, derivative, and unfunny. I chuckled one time during the movie, and it was not worth the agony of watching Alyson Hannigan pop a gigantic zit, or to hear a character actually plug a cell phone company. If you care about the readers, Chris, you will break down your walls of conservatism and let me give this move the ungloved bitch slap it deserves.
Here's hoping that we can reach an agreement that will suit us and give the likes of Uwe Boll the treatment they deserve.
Sincerely,
Pete
[Sorry, Pete. The database simply doesn't go below one star. -Ed.]
The 'unrated' DVD includes numerous extended scenes, two cast and crew commentaries, an 'anti-commentary' from two critics who panned the film (Pete was intially invited to participate but didn't ultimately make the cut — boo!), making-of spoofs, games, auditiona tapes, and more. Now that's a date.
Don't touch my flab.
Portions from Freebase, licensed under CC-BY and Wikipedia licensed under the GFDL