Review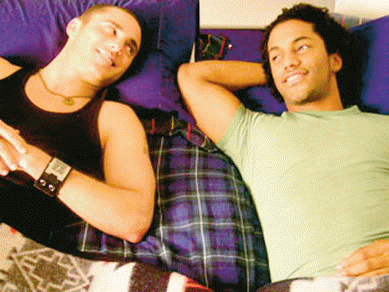 One of the more literate and substantial gay-themed movies to come along in a while, Boy Culture (based on the equally intriguing novel by Matthew Rettenmund), looks at issues of sex, love, and commitment through a unique lens: the eyes of a hustler.
Our narrator, who calls himself X (Derek Magyar), is a smoldering 25-year-old Seattleite who maintains a roster of one dozen high-end clients. Deeply cynical and totally self-aware, he does the job ('It's the only thing I'm good at,' he says) and banks the money while fully understanding that his work has damaged his ability to have relationships, since relationships demand feelings and reciprocity.
X's persistent cynicism troubles his two roommates, video store clerk Andrew (Darryl Stephens), and the more flamboyant and puppy-like 18-year-old Joey (Jonathon Trent), who has a huge crush on X and deals with X's constant rejections by bedding every available gay U of W student he can find.
Can anyone crack X's tough shell? The only person potentially up to the task is Gregory (Patrick Bauchau), an elderly penthouse dweller who X takes on as a new client. Sophisticated, well-spoken, and seductive in his own way, Gregory loves to talk to X but won't have sex with him 'until you desire me as much as I desire you.' Since X knows that'll never happen, their visits turn into quasi-psychotherapy sessions in which X explores his alienation and Gregory regales him with passionate love stories from his past.
It's Gregory who reminds X that to leap into love is risky and potentially painful but well worth it in the end. But X doesn't know love, just sex, and to him, sex is commerce. When roommate Andrew, who's been inching out of the closet, finally decides to express his desire for X, X pushes him away repeatedly, and it will take a lot of soul searching on everyone's part to bring any of these relationships to a happy resolution.
Shot in grainy DV over 19 days in a very cloudy Seattle, Boy Culture has a raw and real feel. As off-putting as X is, it's hard not to be fascinated by the unusual life he has crafted for himself. Magyar has fun playing this sex bomb who leaves broken hearts in his wake, and he's a great narrator, somewhat reminiscent of Christina Ricci in The Opposite of Sex. It's a neat trick to make an audience root for such an unpleasant guy. And fans of Logo's Noah's Arc series will be amazed by Stephens' performance. Wispy thin and effeminate as Noah, he's built and butch as Andrew. It's hard to believe he's the same person. Credit good acting and what must be an impressive workout routine.
I know what boys like.