Description
[from Freebase]
ATL is a 2006 American drama film, and the feature film directorial debut of music video director Chris Robinson. The screenplay was written by Tina Gordon Chism from an original story by Antwone Fisher, and is loosely based on the experiences of the film's producers Dallas Austin and Tionne "T-Boz" Watkins (of the R group TLC) growing up in Atlanta, Georgia. The film is a coming-of-age tale concerning Rashad, played by rap artist T.I. in his film debut, and his friends in their final year in high school and on the verge of adulthood. The film also stars Antwan Andre Patton, aka Big Boi of the rap group OutKast, Evan Ross, Jackie Long, Lauren London, and Mykelti Williamson. ATL was the first feature film produced by its director and the majority of its cast. Filming took place during the summer over a forty-five day schedule in Atlanta. As the film was produced in Atlanta, director Chris Robinson was able to get many celebrities from the city to make cameo appearances, including Jazze Pha, Killer Mike, and Monica. ATL opened on March 31, 2006, and on its opening weekend the film grossed a total of $11,554,404, ranking third in the U.S. box office.
Review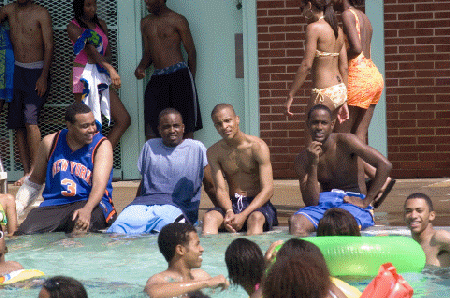 Watching Chris Robinson's ATL – hip code slang for Atlanta (and just when I got comfortable calling it 'Hot-lanta') – we should have no doubt that this coming-of-age story plays out on the streets of the Southern metropolis.
Unfortunately, aside from a few tastes of local flavor, this buffed-clean Boyz n the Hood could have been set on either side of the Mason-Dixon line. The mansions meant to represent the city's wealth could stand beyond any iron gate in Beverly Hills. The greasy spoon diner that attracts the film's high school slackers could be housed in Greenwich Village – the fact that the kids order sweet tea doesn't automatically make ATL southern. Heck, the film's life lessons are obvious to anyone, whether they're from the streets or the suburbs.
ATL ends up being a slow summer ramble through the lives of four high school seniors. Rapper Tip 'T.I.' Harris plays Rashad, our narrator and the anointed leader of his amiable posse. Brooklyn (Albert Daniels) sports endless amount of New York Knicks gear and can't maintain a part-time job. Book-smart Esquire (Jackie Long) needs a letter of recommendation to complete his college application – to our delight, he earns one from legendary character actor Keith David. Teddy (Jason Weaver) is the group's elder statesman. He's 21 and still in high school, where he feels more than comfortable.
The crew spends Sunday nights at Cascades, the local skating rink that attracts competitive teens like bees to honey. The guys train for the pending Skate Wars, flirt with available females, and avoid trouble whenever possible.
Rock fans must be wondering if this is the debut feature from Black Crowes frontman and Georgia native Chris Robinson. Well, it's not, though this Robinson is the latest music-video director to leap to features. He tests the waters early by staging creative shots, placing his camera inside school lockers or atop a disco ball in the center of the Cascades rink. But the director needs a stronger story in which to sink his visual teeth. The script alternates between unfinished plot lines, and ATL keeps placing its characters on the shelf for long periods.
ATL is a loose video diary of some well-intentioned teens finding their way. At best, it trucks along on the unforced ease of inner city friendship. It just doesn't offer anything we haven't seen in an after-school special.
Too cool for the pool.
Portions from Freebase, licensed under CC-BY and Wikipedia licensed under the GFDL