Review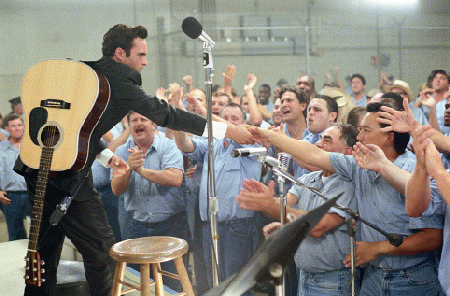 You've got to give the filmmakers of Walk the Line a lot of credit, as they're about to take a lot of guff after this film debuts. I mean, how do you create a feature film that captures the story of a man as big and full and complex as Johnny Cash? That's the question that every Cash fan and country music enthusiast has been asking ever since this project kicked off in the late '90s.
The truth is that no film, book, or TV mini-series can really present the entirety of the giant that is Johnny Cash. So instead, what the filmmakers have created here is a tribute to what Cash seemed to hold so dear to himself about his own life: his triumph over his demons and the love of the 'greatest woman' he ever knew, who gave him the strength to overcome.
It may sound sentimental (and even the makings of a country song), and it certainly is. But it was what Johnny Cash was most emphatic about at the end of his life – his story of redemption and love. And this simple, often sweet, and fascinating film with some fantastic performances definitely does the legend's tale justice.
The story begins where most Cash fans have probably only heard about in his songs – in the run-down cabin in Arkansas occupied by the Cash family, cowering under the anger of father Ray (Robert Patrick). We see a young John enamored with songs he hears on the radio and constantly singing tunes from his mother's hymnal. We also see a couple of formidable events from his childhood: the death of his brother Jack and his father's rejection of Johnny as a son.
The film follows the young rebel Cash (Joaquin Phoenix) through his stint in the Air Force, through his struggle to be signed to a record label in Memphis (competing with the likes of Elvis Presley and Jerry Lee Lewis), his rise to fame on the rock-and-roll circuit, and the partying that leads to a downward spiral into addiction. But the backbone of this story lies in his struggle with those childhood memories, and the thread of June Carter (Reese Witherspoon) in his life – from a tinny voice on the old family radio to a flirtation on stage during his days of touring.
The brilliant performances by Phoenix and Witherspoon really keep this film from falling into formula. A pick who was approved by Cash himself (supposedly he was a big fan of Gladiator), Phoenix intensely channels the country star's singing voice, mannerisms, guitar grip – everything. And Witherspoon's Carter just lights up the screen with all the warmth, humor, and strength this amazing woman was famous for in life. While the impersonations are hardly perfect, the chemistry is, and the duo impressively owns their roles without fear. They give this story a real soul.
Perhaps the film's weakest aspect is what's missing – all that shaped Cash beyond those demons and the love of his life. We get glimpses, such as an early scene that shows a young Cash writing out 'Folsom Prison Blues' in a barracks shower after watching a newsreel about the infamous lockup or throwaway lines from June that turn into big hits like 'Walk the Line.' But sadly, that's the limitation of this medium – not everything that makes Johnny Cash great can fit into 136 minutes and hold your attention.
Undoubtedly, Walk the Line will be compared to last year's Ray, which depicts a similar Behind the Music-style parable of a man of humble beginnings fighting through bad relationships and a strong drug habit to eventually become music royalty. But what Walk has that most biopics don't is an inspiring true love story so well portrayed, buoying this movie out of mediocrity.
Let's just hope that another difference between the two films is that Phoenix avoid whoring himself out as a professional impersonator the way the Jamie Foxx did following Ray. And if he does, I could almost give this movie another half a star.
The special edition DVD includes an exhaustive amount of Cash material, with extended musical numbers, deleted scenes, interviews galore, and more featurettes. The set of two DVDs also includes five black and white postcards featuring stills from the film. Very nice set.
The extended edition DVD includes a longer cut of the film (with 18 minutes of extra footage), plus most of the same extras as the special edition DVD but sans the postcards.
Talk about a burnin' ring of fire…