Description
[from Freebase]
Prime is a 2005 American romantic comedy film starring Uma Thurman, Meryl Streep and Bryan Greenberg. It was written and directed by Ben Younger. The film grossed $67,937,503 worldwide. Rafi (Uma Thurman) is a recently divorced, 37-year-old career woman from Manhattan who becomes romantically involved with David (Bryan Greenberg), a talented 23-year-old Jewish painter from the Upper West Side. Rafi shares all her secrets with her therapist Lisa (Meryl Streep) who, unbeknownst to Rafi, is David's mother. Lisa, supportive of Rafi's relationship with a younger man, discovers the connection and finds herself not only faced with the ethical and moral dilemma of counseling David's girlfriend, but also the reality that she feels differently about the relationship now that she knows her son is involved. Lisa consults her own therapist, and they decide that it is in the best interest of her patient Rafi for Lisa to continue treatment, as long as the relationship remains the "fling" it appears to be. However, Lisa soon realizes that the relationship is serious, and tells Rafi that she is David's mother. Feeling embarrassed and betrayed, Rafi ends her treatment with Lisa.
Review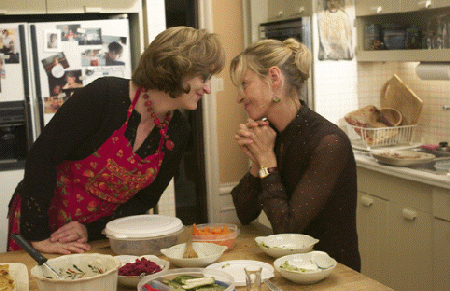 The title makes no sense – when you hear Prime, you expect a movie about numbers or meat – but the sentiments found in this cute romantic comedy are easily identifiable. Writer/director Ben Younger follows up his stocks-and-bombs thriller Boiler Room with an unpolished but idealistic date fling that sounds like a sitcom setup but has more charm than a television set could contain.
Younger aimed high when casting for his sweet screenplay and attached two marquee names to his personal endeavor. Meryl Streep dons a frumpy wig and horn-rimmed spectacles to create Lisa Metzger, a Manhattan mensch and doting psychotherapist currently treating newly divorced, statuesque blonde bombshell Rafi Gardet (Uma Thurman). Following Lisa's advice to let loose a little, Rafi enters a relationship with David (Bryan Greenberg), a lower East Side painter who happens to be 14 years younger… and Lisa's son.
Going in to Prime, I didn't think it would offer much more beyond this mistaken-identity premise. What a pleasant surprise to discover that Younger looks beyond the minimal twist and brings up legitimate concerns for this mismatched couple. Lisa figures out that Rafi and David are a couple before Rafi realizes the connection between her therapist and her lover. She's torn between the professional obligations to her patient and her natural maternal instincts, a divide made credible by Streep's subtle decisions in character.
As an added bonus, Younger works through his film's issues with patience and compassion. Scenes that could have been played for broad laughs instead further the pair's fledgling relationship, which has the potential to fly like an eagle or dissolve like a salt grain in a bucket of water.
Younger's directorial flourishes do lean toward the easy laughs. He loves predictable reaction shots, cutting to sushi chefs and Rafi's stoic doorman on more than one occasion. He also relies heavily on ethnic humor, playfully poking fun at the conservative Jewish community in ways that usually play better in the confines of New York's five boroughs. He remembers to think outside the box, though, and penned a handful of guffaws that resulted in a few jokes being lost to crowd noise as my preview audience roared through the film's funniest lines. When a joke hits its mark, Younger can't help but return to it. The sight of a grandmother hitting herself in the head with a frying pan was funny once, not three times.
But there's chemistry galore, both romantic (between Thurman and Greenberg) and anxious (between Streep and just about every character she interacts with). Greenberg reminds me of a personable Hayden Christensen. He makes David a genuinely likable guy, an inexperienced 'playa' who's out of his league but lucky enough to find a damaged goddess in need of a tender boost. Prime could have been a one-joke pony. Instead, it competently trots through predictable terrain that proves to be worth exploring once again.
Needs seasoned salt.
Portions from Freebase, licensed under CC-BY and Wikipedia licensed under the GFDL