Description
[from Freebase]
Eating Out is a 2004 gay-themed romantic comedy film written and directed by Q. Allan Brocka. After getting dumped by his girlfriend Tiffani von der Sloot (Rebekah Kochan), University of Arizona student Caleb Peterson (Scott Lunsford) commiserates with his roommate Kyle (Jim Verraros), who notes that while he has trouble getting the men he wants, he could get any woman because he's gay. Later at a party, Gwen Anderson (Emily Stiles) dumps her boyfriend after he comes out to her. Caleb sees her and becomes infatuated and meets Marc Everhard (Ryan Carnes), with whom Kyle is infatuated. Marc, meanwhile, sees Caleb and is instantly attracted. Kyle comes up with a crazy scheme. He tells Gwen that Caleb is gay so she'll set him up with Marc. Kyle figures that Caleb can use Marc to get to Gwen, while Kyle uses Caleb to get to Marc. Also, Tiffani lives next door to Gwen and Marc so seeing Caleb date Marc would make her crazy. Caleb and Marc go out on a date then go back to Marc's place to watch a movie. Marc tries to put the moves on Caleb, who's unresponsive. Suddenly Gwen, who's stuck at a friend's house and bored, calls.
Review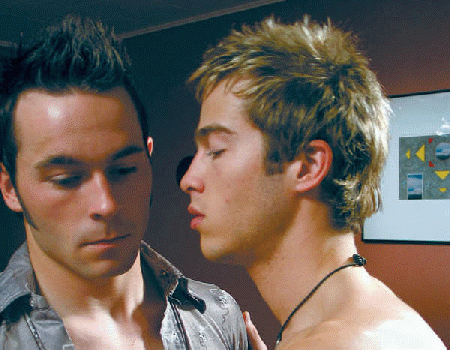 Finally a gay indie that wasn't shot on Santa Monica Boulevard. Eating Out takes places in Tucson, Arizona of all places, and as it turns out, the hot desert is the perfect place to unspool this steamy, funny story of gay/straight sexual posturing and politics. Racing along fast enough to jam about two movies' worth of witty banter into one, there's never a dull moment as three great-looking guys and two great-looking girls tangle themselves up in a confusing game of phony-sexual-identity Twister.
In a nutshell, Caleb (Scott Lunsford), who's straight, likes Gwen (Emily Stiles). But Gwen likes gay-acting boys. So Caleb's gay roommate Kyle (Jim Verraros) coaches him on how to be just fey enough to reel her in. But Caleb succeeds to excess, and Gwen becomes convinced that Caleb would be a perfect match for her gay roommate Marc (Ryan Carnes). But wait! Kyle has a crush on Marc, and now he's going to lose out to his own straight roommate? What a mess.
Whether you can follow all that or not doesn't really matter. The story unfolds clearly, with Caleb wondering just how far he'll take it with Marc in his pursuit of Gwen. The answer: pretty damn far for a mainstream movie. Suffice it to say Caleb surprises himself with the lengths he'll go to experiment, while the eager Marc is dismayed to find Caleb approaching and then retreating like a gay man struggling to come out of the closet. Marc is far more, um, liberated.
Left behind in all this confusion is the comically bodacious Tiffani (Rebekah Kochan), Caleb's previous fling, who blows through the movie in a cloud of pink feathers wielding a dangerous-looking sex toy. She's the potty-mouthed Kim Cattrall of this group, pure sex on the rampage who can't believe her ex (who started the movie by indulging her in a rape fantasy) has turned out to be gay. Her bitter retort: 'You little hose huffer!!!'
So Caleb is 'out,' Gwen is trying to turn him straight (phone sex is her specialty), Marc is in love, and Kyle is furious. Enter Caleb's parents and his bratty little sister, who are shocked to discover their family member has turned out gay but are full of funny liberal blather about how great it is. Every constituency gets sent up in this free-for-all, and of course it will all untangle itself by the end, with everyone learning an important lesson or two about sexuality and the mistake of making too many assumptions.
Production notes for Eating Out say the entire film was shot in ten days. They must have been ten very long days because there's a lot going on down in this part of Tucson. You almost want a sequel just to see how hot and heavy it gets when all the characters are finally matched up with their appropriate partners.
Who wants Thai?
Portions from Freebase, licensed under CC-BY and Wikipedia licensed under the GFDL