Brother to Brother (2004)
Description
[from Freebase]
Brother to Brother is a film written and directed by Rodney Evans and released in 2004. The film debuted at the 2004 Sundance Film Festival before playing the gay and lesbian film festival circuit, with a limited theatrical release in late 2004. Art student Perry (Anthony Mackie) befriends an elderly homeless man named Bruce Nugent (Roger Robinson), who turns out to have been an important figure in the Harlem Renaissance. Through recalling his friendships with other important Harlem Renaissance figures Langston Hughes (Daniel Sunjata), Aaron Douglas, Wallace Thurman and Zora Neale Hurston, Bruce chronicles some of the challenges he faced as a young, black, gay writer in the 1920s. Perry discovers that the challenges of homophobia and racism he faces in the early 21st century closely parallel Bruce's. Brother to Brother was released on Region 1 DVD on June 14, 2004.
Review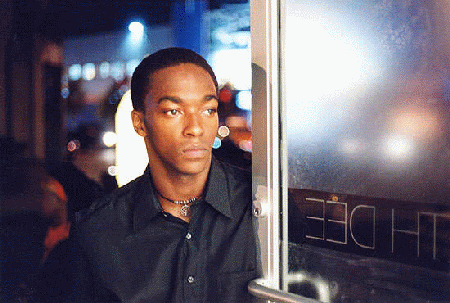 Perry (Anthony Mackie) has a lot going on. He's young, black, and gay, and studying hard at Columbia while also working at a homeless shelter and trying to get noticed as a painter. Disowned by his homophobic parents, he's looking for love, meaning, purpose… all that good stuff. 'There's a war inside me,' he thinks to himself.
So can he end the war in the course of a 90-minute movie? Brother to Brother tackles so many issues that there's no way Perry will find all his answers, but he does make a good start with the help of the elderly Bruce Nugent (Roger Robinson), a minor figure in the Harlem Renaissance whom Perry encounters on the street and later at the shelter. Nugent, who's also gay, takes Perry back to the days of wild Harlem through a series of black-and-white flashbacks. It's there that we meet the young Bruce (Duane Boutte) along with the superstars of the era: Langston Hughes (Daniel Sunjata), Zora Neale Hurston (Aunjanue Ellis), and Wallace Thurman (Ray Ford). By listening to Nugent's stories, Perry realizes that all the prejudices he's fighting – black vs. white, gay vs. straight, light-skinned vs. dark-skinned – are nothing new.
Back in the present, Perry's buddy Marcus (Larry Gilliard Jr.) does what he can to encourage Perry in his love life and his artistic career, but Marcus can't offer love. For that, Perry turns to a cute white classmate Jim (Alex Burns), but in one of the film's most telling moments, Jim starts fetishizing Perry out loud, telling him during a makeout session that he loves his soft skin and his 'sweet black ass.'
Say what? Perry bolts from the room, realizing that however well-intentioned Jim may be, he can never be the kind of lover he needs. Another wall goes up. In the same way, Perry rebuffs a white Chelsea art dealer who shows interesting in selling Perry's work. He tells Marcus he's uncomfortable around 'those types of people,' but Marcus just rolls his eyes and urges him to play the game. Back in the past, we see a scene where Hurston and Hughes also reject a publisher who wants to publish their fiction, but only if they're willing to add more of the sex, drugs, and depravity that white audiences want to read about.
Back and forth, past to present the movie travels, with Nugent providing the connecting thread, explaining everything with aphorisms, poetry, and the kinds of reassurances that old men on park benches are always happy to provide. By now he's developed a crush on Perry, but their relationship can get no more intense than a dual portrait painting session (with strikingly good results, by the way).
Writer/director Rodney Evans has tackled a lot here, too much really. Any one of the prejudices Perry confronts would be enough to build an interesting movie around, but jam them all into a single story and Perry seems mercilessly buffeted from one crisis to the next. Heck, he even gets gay-bashed along the way, and by African-Americans, no less. Brother to Brother is a sincere effort with lots of powerful ideas to discuss, but after you've watched you'll have trouble deciding which one to discuss first.
No loitering.
Portions from Freebase, licensed under CC-BY and Wikipedia licensed under the GFDL