Description
[from Freebase]
Underworld is a 2003 action-horror film about the secret history of Vampires and Lycans (an abbreviated form of lycanthrope). It is the first (chronologically, the second) installment in the Underworld series. The main plot revolves around Selene (Kate Beckinsale), a vampire who is a Death Dealer hunting Lycans. She finds herself attracted to a human, Michael Corvin (Scott Speedman), who is being targeted by the Lycans. After Michael is bitten by a Lycan, Selene must decide whether to do her duty and kill him or go against her clan and save him. While reviewers generally received the film negatively, criticizing the overacting and lack of character development, a smaller number of reviewers praised elements such as the film's stylish Gothic visuals, the "icy English composure" in Kate Beckinsale's performance, and the extensively worked-out vampire-werewolf mythology that serves as the film's backstory. For generations a secret war has raged between vampires and Lycans, an ancient species of werewolf. Two vampires known as Death Dealers track a pair of Lycans, who are in their human form. The vampires, Selene and Rigel, specialize in assassinating Lycans.
Review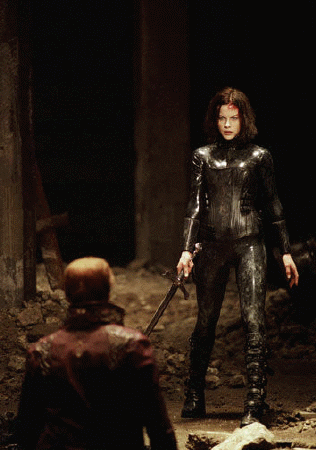 Underworld's trailer makes it looks wonderfully slick and dark in the tradition of The Matrix and Blade — from its Dark Shadows-meets-Matrix costumes to its Blade weaponry to its Nine Inch Nails video backdrops. Straight out of Marilyn Manson's wet dreams comes the fantastical storyline: For centuries, vampires have battled werewolves, known here as Lycans. It's not really clear why they've been battling, even after the film sort of reveals the reason; so we'll leave it there. The Vampires are depicted as aristocratic sophisticates who prefer fine crystal and Porsches, whereas the Lycans are filthy street thugs who morph into ferocious dog-like monsters.
Kate Beckinsale plays the beautiful and fierce vampire warrior Selene who, in hunting the Lycans, discovers that a few of them are tracking a human named Michael (Scott Speedman). In her effort to unravel what role Michael plays in the Lycans' war plans, she finds out that Michael
is
a werewolf. Then, somehow, they fall in love, and they begin to seek out an end to the ancient feud together. Sound to you like
Romeo and Juliet
with monsters? You're basically right if you add werewolves, which do look pretty scary as they crawl along the walls.
Portions from Freebase, licensed under CC-BY and Wikipedia licensed under the GFDL