Description
[from Freebase]
Grind is a 2003 American adventure, comedy film about four young aspiring amateur skaters Eric Rivers (Mike Vogel), Matt Jensen (Vince Vieluf), Dustin Knight (Adam Brody), and Sweet Lou Singer (Joey Kern) who are trying to make it in the world of pro skateboarding by pulling insane stunts in front of pro skater Jimmy Wilson (Jason London). The film has developed a cult following. While the rest of his high school graduating class is heading to the same old kind of college, skateboarder Eric Rivers and his best friends, Dustin, a goal-oriented workaholic, and misfit slacker Matt have one last summer roadtrip together to follow their dream of getting noticed by the professional skateboarding world—and getting paid to skate. When skating legend Jimmy Wilson's skate demo tour hits town, the boys figure that as soon as he sees their fierce tricks, he'll sign them up for his renowned skate team immediately, right? Unfortunately, the guys are intercepted by Jimmy's road manager and they can't get their foot in the door, much less their boards. But they do get some free advice: keep skating, stay true to yourself, and stay in the game—if you're good, you'll get noticed.
Review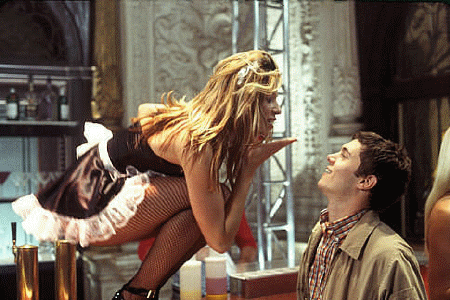 Putting off their futures as long as they can, four lifelong buds hit the road in hopes of landing a pro skating sponsorship. Eric (Mike Vogel) motivates the group, made up of college-bound Dustin (Adam Brody), spacey Matt (Vince Vieluf), and ladies' man Sweet Lou (Joey Kern, blatantly ripping off Matthew McConaughey's Dazed and Confused persona). Their plan includes shadowing pro skater Jimmy Wilson (Jason London), though Eric's quick to be distracted by the smokin' hot skater chick (Jennifer Morrison) that keeps wheeling across his path.
Surprisingly, the four friends aren't slackers. They're motivated when it comes to getting what they want, which in this case happens to be an audience for their 'Sponsor Me' tapes and, hopefully, a long-term contract and a gig skating for a living. Along the way, they encounter a healthy mixture of professional skaters, scantily clad skate babes (one female is actually listed in the credits as 'Another Hot Girl'), and an army of washed up comics in cameos. Director Casey La Scala certainly keeps us guessing, as Bobcat Goldthwait, Dave Foley, Randy Quaid, and Tom Green grace the screen.
Grind shreds the competition when it comes to skateboarding movies. The sport's natural fluidity lends itself to being photographed, and La Scala (himself a skater) keeps the four-wheeled action moving. Initially, Grind aims to thrill and entertain, while slyly weaving in a message of 'set a goal' and 'work to achieve it.'
But the film can't quite shred the formula that's dragging the plot down. What starts as a quirky mix of inspirational teenage bonding – powered by the chemistry of the four leads – collapses all too rapidly into an adolescent road trip flick peppered with choreographed dance routines, Poison sing-alongs, and an abundance of toilet jokes. Grind is fascinated with human waste: dropping it, smelling it, cleaning it up.
But where are the wipeouts? All told, I counted two characters who hit the ground while skating, and one is in a controlled environment on a ramp. Am I to believe that these pros filling in for the actors are that good? With two regulars from Jackass in the cast, I expected at least one expertly-edited crash montage, and left the theater sadly disappointed.
In addition to a music video, a cacophonous cast and crew commentary backs the DVD.
Not that kind of grind, sorry.
Portions from Freebase, licensed under CC-BY and Wikipedia licensed under the GFDL