Description
[from Freebase]
Juwanna Mann is a 2002 romantic comedy film directed by Jesse Vaughan. The movie stars Miguel A. Núñez, Jr. as Jamal Jeffries, a basketball star turned female impersonator after being banned from men's basketball. The film also stars Vivica A. Fox, Kevin Pollak, Tommy Davidson, Kim Wayans, Ginuwine, and J. Don Ferguson. The movie is written by Bradley Allenstein and produced by Bill Gerber. The movie opened in theaters on June 21, 2002. The movie was filmed in Charlotte, North Carolina, at the Charlotte Coliseum and the Independence Arena. The movie's soundtrack features music by Diana Ross, James Brown, Mystikal, Ginuwine, and Stevie Wonder. Juwanna Mann follows the story of Jamal Jeffries (Miguel A. Núñez, Jr.), a basketball star whose undisciplined on-and-off-court antics have earned him a bad reputation in the basketball community. Jamal is suspended indefinitely after he strips naked in protest of being taken out of a game. His agent, Lorne Daniels (Kevin Pollak), is unsuccessful at finding him a new team, and cuts Jamal as a client.
Review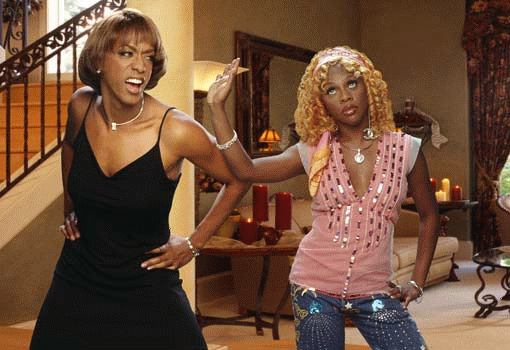 Hollywood's latest cross-dressing comedy comes from Warner Bros., a studio that up until now has been enjoying a successful summer run (Scooby-Doo, Insomnia, and Divine Secrets of the Ya-Ya Sisterhood). Juwanna Mann — best described as Tootsie in high tops — should stop the studio's momentum dead in its tracks when it finally hits screens, as this bland, tiresome and uninspired farce has been sitting in the can awaiting distribution for almost two years, gathering mold and cobwebs when it should have been polishing jokes and shoring up plotlines.
Miguel A. Nunez Jr. stars as Jamal Jeffries, egotistical bad-boy of the UBA (apparently the NBA didn't want their brand associated with this Mann), who gets suspended from the Charlotte Beat for repeated examples of lewd behavior on and off the court. His agent (Kevin Pollak) quits on him, claiming no one will employ a hothead, regardless of his talent. Desperate to fuel his extravagant lifestyle, Jeffries dons a wig, some padding, and his aunt's best sneakers to create Juwanna Mann, a muscular two-guard who tries out for and makes the Beat's female counterpart, the WUBA Charlotte Banshees. Whether he/she can maintain the ruse all season lies at the heart of this limp comedy.
If only the film had heart at all. Instead, recycled cross-dressing jokes beat in the chest of a premise that produced belly laughs in 1959 (see Some Like It Hot), but feels flat, crass and lifeless here. Tell-tale signs of Juwanna Mann's age first appear at the Charlotte Coliseum. Ignore the irony of director Jesse Vaughan's camera panning the faces of a rowdy crowd in a city that lost its pro basketball team months ago. Instead, just scan the team on the floor, peppered with former Charlotte Hornets players like Vlade Divac and Muggsy Bogues, who retired from the game after the 2001 season.
Bradley Allenstein's screenplay deserves to get whistled for the foul. His action lacks consistency and awareness of self that deflates the film's inner logic. NBA superstars like Kobe Bryant are referenced, despite the fact that the film functions with fictional teams existing in a made-up league. And while money appears to be Jeffries' sole motivation initially, the fact that he'll make one-tenth his UBA salary in the women's league never occurs to him.
At least Nunez — an actor only capable of delivering lines in one long, loud pitch — actually resembles a WNBA player when he's driving the lane in drag. By embracing the stereotypical female basketball player role himself, Nunez stays a step ahead of Vaughan, who paints every other female character on the team with one of two colors: the mustachioed manly type and the lesbian. Potshots at feminine leagues were hardly deemed hilarious when they were used by sports columnists way back in 1996, when the real WNBA first claimed, 'We've Got Next.' Here they feel as fresh as bananas left under the refrigerator in August.
The utter lack of originality ultimately makes Mann unwatchable. It did, however, contain one element I'd never seen before. In a truly inspired moment, Mann assures itself a PG-13 rating by actually beeping out several curse words. It actually shook me out of my coma momentarily, and I'd wondered if the film had summoned its creativity off of the bench. Substitute! Alas, the monotony of the film quickly returned, no more curses were self-edited, and the picture rocked me back into a comfortable slumber.
Juwanna refund?
Portions from Freebase, licensed under CC-BY and Wikipedia licensed under the GFDL