Description
[from Freebase]
Hollywood Ending is a 2002 American film written and directed by Woody Allen, who also plays the principal character. It tells the story of a once-famous film director who suffers hysterical blindness due to the intense pressure of directing. Val Waxman (Allen) is a one-time prestigious film director lately reduced to overseeing cheesy television commercials in order to pay his bills and support his current live-in girlfriend (Debra Messing). When he is thrown off his latest effort (a deodorant commercial being filmed in the frozen north), he desperately seeks a real movie project. Out of the blue, Val receives an offer to direct a big-budget blockbuster movie to be set in New York City. However, the offer comes from his former wife (Tea Leoni) and her current boyfriend (Treat Williams), the studio head who stole Val's wife from him. Pushed by his agent (Mark Rydell), Val agrees to the project, but a psychosomatic ailment strikes him blind just before production is to begin. The movie plays out with an aging director struggling to regain his vision, both metaphorically and literally.
Review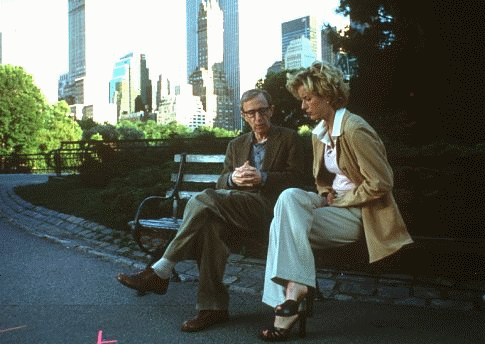 Hollywood Ending – a trite, ugly, and self-indulgent tangent into the complex neurosis of one of American's greatest film directors – stands as Woody Allen's biggest failure in a decade.
Allen plays Val Waxman, a two-dimensional, washed-up film director with a bad case of hypochondria and a reputation in the industry that is on par with Michael Cimino. In order to resurrect his career, Waxman's ex-wife Ellie (Téa Leoni) persuades her studio bigwig boyfriend Hal (Treat Willams) and his over-tanned studio executive cronie Ed (George Hamilton) to hand over the directing duties of their new big-budget noir remake set in Manhattan. Once the deal is done and the directing duties fall into his hands, Waxman's various neuroses finally catch up with him, and he ends up suffering (along with the audience) from psychosomatic blindness.
With his career and the picture in jeopardy, Waxman enlists the help of his agent Al (Mark Rydell), the cinematographer's Chinese translator (the excellent actor Barney Cheng, who the filmcritic.com staff have become oddly fanatical about), and even his ex-wife/producer Ellie, to help guide the rickety ship to a safe port without the suits finding out about his malady.
From this point on, Allen's surprisingly predictable screenwriting rears its ugly head, veering into Chevy Chase pratfalls and cheap one-liners, made even worse by a cast of B-movie chuckleheads like Treat Williams and George Hamilton.
After the first twenty minutes, the film repeats the scenes of Allen playing the blind guy, stumbling around furniture and choosing inappropriate props, his pandering toward much younger girls, and the co-dependent relationships among Waxman, his ex-wife, and his agent – it's all so very trite.
My analysis of Hollywood Ending is that Woody Allen attempted not to mock the Hollywood studio system but rather to explore his own narcissism and self-indulgence. Hell, it worked plenty well for Woody in the past, why not now?
Screened at the 45th Annual San Francisco International Film Festival.
Allen, with fetish.
Portions from Freebase, licensed under CC-BY and Wikipedia licensed under the GFDL