Description
[from Freebase]
Collateral Damage is a 2002 American action film directed by Andrew Davis, starring Arnold Schwarzenegger, Elias Koteas, Francesca Neri, Cliff Curtis, John Leguizamo and John Turturro. The film tells the story of a Los Angeles firefighter, Gordon Brewer (Arnold Schwarzenegger), who looks to avenge his son and wife's death at the hands of a guerrilla commando, by traveling to Colombia and facing his family killers. A bomb is detonated in the plaza of the Colombian Consulate building in Los Angeles, killing 9 people including a caravan of Colombian officials and American intelligence agents. Among the civilians killed are the wife and son of LAFD firefighter, Gordon Brewer (Arnold Schwarzenegger), who was injured in the explosion as he arrived to pick up his family. Soon afterward, a tape is sent to the U.S. State Department, in which a masked man calling himself "El Lobo" (The Wolf) claims responsibility for the bombing, explaining it was in retaliation for America's oppression of Colombia. The FBI believes El Lobo is a Colombian terrorist named Claudio Perrini (Cliff Curtis).
Review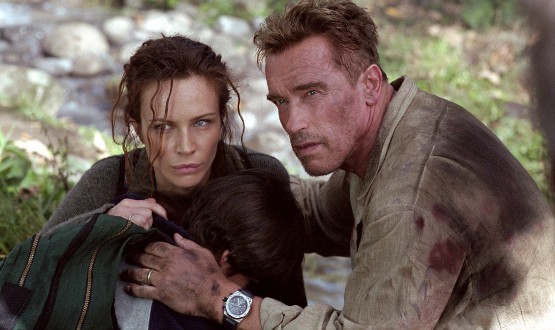 For many, one of the best action movies of the '80s was the Arnold Schwarzenegger classic Commando. Dealing with a former Black Ops agent who returns to duty to rescue his kidnapped daughter, the blood and stunt extravaganza secured the future Governor of California's place in the pantheon of bravura butt-kickers. Two decades and several underperforming efforts later, the eternal Terminator returned to a similarly styled spectacle hoping to jumpstart his lagging box office fortunes. Unfortunately, the terrorist themed Collateral Damage ran into the worst enemy attack on American soil ever, changing its perception among possible audience members and delaying its eventual release.
Still, the result is one of Schwarzenegger's best, a clever combination of politics and "POW!" meant to showcase the aging icon's considerable skills. Ar-nold plays a fireman in Los Angeles who loses him wife and child in a horrific explosion. When he discovers it's the work of some angry Columbian radicals, he vows revenge. So with the help of some inside individuals, including CIA Special Agent Peter Brandt (Elias Koteas), our hero, whose name is Gordy Brewer, heads down to South America and begins his predictable payback. Of course, he has to have semi-superhuman powers, a coincidental way of avoiding detection, and a seedy sidekick (John Leguizamo) who plays both sides of the situation for his own ill-gotten gain.
At the heart of the criminal conspiracy is a man named Claudio (Cliff Curtis). Under the guise of "El Lobo," he is supposedly plotting an even bigger attack on Washington DC. Once he's infiltrated the baddie's camp and commandeered his turncoat spouse Selena (Francesca Neri), Gordy returns to the US to try and stop the inevitable. Eventually, secrets are uncovered and connections are made, leading our muscular marauder to learn the horrific truth about El Lobo, the actual location of the proposed assault, and the means of making sure the United States is never the victim of another powerful "peasant with a gun."
With expert direction by Andrew Davis (The Fugitive, Under Siege) and a timely narrative thread, Collateral Damage is a lot better than you'd expect. It clearly bests previous Arnold also-rans like The 6th Day and End of Days while not really reaching the same gore-soaked heights as the previously mentioned Commando. Schwrzenegger's buff believability may be strained, but he can still center a stunt-filled spectacular. Of course, the plot may prickle those who believe that 9/11 deserves nothing but reverence, but this was made before those horrific events. Any connection is accidental, not intentional.
Because Davis strives for a sense of realism and the material matches the star perfectly, Collateral Damage succeeds where other late period Arnie works fail. Gordy is straightforward and simple, dutiful to a fault and unable to play the politics of appeasement. Instead, he's a gladiator in ordinary guy garb, a fire-axe wielding marvel who makes mincemeat out of those who spit on freedom. That all makes Damage a classic Schwarzenegger flick — one of the best, in fact.
Portions from Freebase, licensed under CC-BY and Wikipedia licensed under the GFDL