The Princess Diaries (2001)
Description
[from Freebase]
The Princess Diaries is a 2001 comedy film produced by singer and actress Whitney Houston and directed by Garry Marshall. It is based on Meg Cabot's 2000 novel of the same name. The film stars Anne Hathaway (her film debut) as Mia Thermopolis, a teenager who discovers that she is the heir to the throne of the fictional Kingdom of Genovia, ruled by her grandmother Queen Dowager Clarisse Renaldi, who is portrayed by Julie Andrews. It also stars Heather Matarazzo as Mia's best friend Lilly Moscovitz, Héctor Elizondo as Joseph, the Queen's Head of Security, and Robert Schwartzman as Lilly's brother Michael, who has a crush on Mia. It was released to North American theatres on August 3, 2001 and peaked at number three in the box office. The Princess Diaries was a commercial success, grossing $165,335,153 worldwide. The Princess Diaries 2: Royal Engagement, the film's sequel, was released in August 2004. Mia Thermopolis (Hathaway) is a fifteen-year-old tenth grade private school student who lives with her mother Helen Thermopolis (Caroline Goodall) and her cat, Fat Louie, in a renovated San Francisco firehouse. Mia is an average, plain-looking student, but extremely unpopular.
Review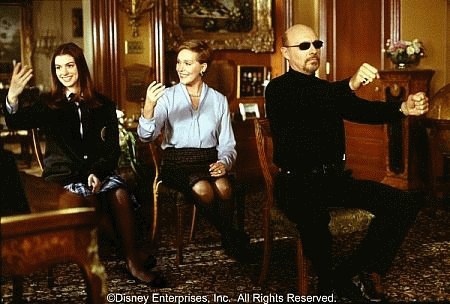 Anne Hathaway is a gorgeous, young woman with a gentle screen charisma. It's hard to believe she will turn 19 this fall; she looks and presents herself like a woman who knows all the answers.
This is someone who should not be the lead role in a movie about puberty blues, but here she is. In Garry Marshall's latest outing, The Princess Diaries, Hathaway plays a smart, gawky 10th grader who learns she is the heir to the throne of a small European country.
The news is broken to Hathaway by her long-lost grandmother (Julie Andrews), queen of fictional Genovia, while she tends to business at the country's embassy in San Francisco. Genovia is in desperate need of a ruler and needs Hathaway to take over after her father's death. Despite her doubts, California klutz Hathaway agrees to take 'princess lessons' from Andrews and trusted chauffer Hector Elizondo before deciding whether to rule a country or take the SATs.
This is all very familiar territory for Marshall, who directed Pretty Woman over a decade ago. However, Pretty Woman worked because of a brilliantly brash performance by a pre-superstar Julia Roberts and the movie's take as an adult fairly tale. With The Princess Diaries, there isn't anything distinctive to make it particularly memorable.
Among the flaws in Gina Wendkos' script, based on Meg Cabot's novel, is the constant reliance on Hathaway's clumsiness. She breaks things, has trouble putting on panty hose, falls down a lot. I'd love to see the day when a comedy doesn't have to feature a beautiful woman flailing around like she has an inner ear problem. Words can be just as funny coming out of a woman's mouth as they can a man's. Watch Madeline Kahn in Young Frankenstein for proof.
The script also doesn't have the wink-wink humor (like Shrek) that makes a family film appealing to adults. While the goofiness and pretty cast (teen siren Mandy Moore has a sizable role as Hathaway's nemesis) will certainly satisfy kids, there's really not a lot for grown-ups to enjoy. Andrews and Elizondo (in Pretty Woman mode) give spirited performances, but they don't get a lot to do. However, a dance scene between the two is the movie's sweetest moment and hints at what could have been.
This is Hathaway's movie, which is both a good and a bad thing. She's positively stunning and shows talent despite the clunky plot. However, I have a major problem with her character. Even in frizzy hair and Elvis Costello glasses, she would be popular in just about any high school in America. You can only imagine what Hathaway looks like in princess mode.
Still, the leggy, elegant Hathaway is the lead in a movie that takes a somewhat serious look at the awkwardness of growing up and the value of a person's character. I saw the movie with an audience during a Friday matinee, consisting mostly of kids who probably are or soon will be going through the same problems. Certainly, The Princess Diaries isn't the only culprit of questionable adolescent casting: Varsity Blues and She's All That immediately come to mind as well. In The Princess Diaries, Hathaway's presence also deflates her character's regal metamorphosis. What exactly was there to transform in the first place?
The Princess Diaries on DVD is largely what you'd expect, though Garry Marshall's introductions of his deleted scenes (as well as his commentary track) are insane and worth checking out. Is he on something? Does he think he's the king of Genovia? Don't laugh… yet. The new two-disc Special Edition cut adds more outtakes and bloopers, more featurettes, and more Hathaway goodness, all presented in THX-certified super-sound.
Some country you got there.
Portions from Freebase, licensed under CC-BY and Wikipedia licensed under the GFDL