Description
[from Freebase]
Hannibal is a 2001 American psychological thriller film directed by Ridley Scott, adapted from the Thomas Harris novel of the same name. It is a sequel to the 1991 Academy Award-winning film The Silence of the Lambs that returns Anthony Hopkins to his iconic role as serial killer Hannibal Lecter. Julianne Moore co-stars, taking over for Jodie Foster in the role of FBI Agent Clarice Starling. Set seven years after The Silence of the Lambs, the premise is that Mason Verger (a disfigured former victim played by Gary Oldman) is determined to capture, torture, and kill Lecter. The film's locations alternate between Italy and the U.S. The film's development drew a large amount of attention, with The Silence of the Lambs director Jonathan Demme, screenwriter Ted Tally and actress Jodie Foster all eventually declining involvement. Upon release, Hannibal broke box-office records in the United States, Australia, Canada and the UK in February 2001. Seven years after tracking down serial killer Jame Gumb, FBI Special Agent Clarice Starling (Julianne Moore) is unjustly blamed for a bungled drug raid.
Review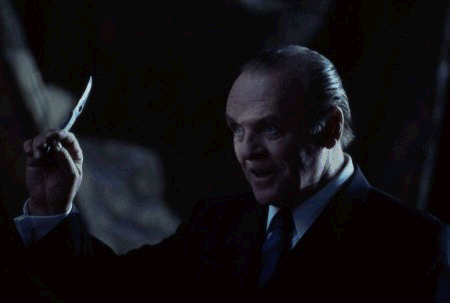 Although it's a sequel, Hannibal is a decidedly different movie than Silence of the Lambs. Less of a procedural than the earlier, Oscar-winning hit, this is instead a slasher flick with a slice of culture and a psycho killer with a bit of panache. It also has some other things that many slasher stories lack: rustic charm, incredibly stylistic directing, and a fine orchestral score (Hans Zimmer does a very creepy arrangement on a well-known aria that just makes your skin crawl).
Anthony Hopkins is back as the titular cannibalistic serial killer. FBI agent Clarice Starling, who was played by Jodie Foster in the original film, is played by Julianne Moore, who handles the role well. This Starling is more battle-hardened and tougher than the earlier iteration. Other sequels would come along, but director Ridley Scott definitely gave his own stylistic spin to this entry in the series.
Portions from Freebase, licensed under CC-BY and Wikipedia licensed under the GFDL