Description
[from Freebase]
Sleepy Hollow is a 1999 American period horror film directed by Tim Burton. It is a film adaptation loosely inspired by the 1820 short story "The Legend of Sleepy Hollow" by Washington Irving and stars Johnny Depp, Christina Ricci, Miranda Richardson, Marc Pickering, Michael Gambon, Jeffrey Jones, Casper Van Dien, Ian McDiarmid, Michael Gough, and Christopher Walken. The plot follows police constable Ichabod Crane (Depp) sent from New York City to investigate a series of murders in the village Sleepy Hollow by a mysterious Headless Horseman. It is also the first film by Mandalay Pictures. Development for Sleepy Hollow began in 1993 at Paramount Pictures with Kevin Yagher originally set to direct Andrew Kevin Walker's script as a low-budget slasher film. Disagreements with Paramount resulted in Yagher being demoted to prosthetic makeup designer, and Burton was hired to direct in June 1998. Filming took place from November 1998 to May 1999, and Sleepy Hollow was released to generally favorable reviews from critics, and grossed approximately $207 million worldwide. Production designer Rick Heinrichs and set decorator Peter Young won the Academy Award for Best Art Direction.
Review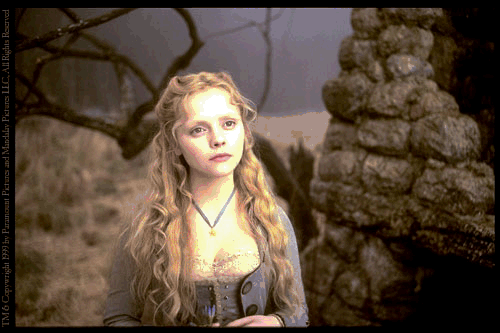 I'll be the first to admit I don't really remember the details of Washington Irving's The Legend of Sleepy Hollow. But what I do remember, well, it didn't go like this.
In typical Tim Burton fashion, a fairy tale gets an update (and the film's color gets drained out in the process). The guts of Legend are still there: In 1799, evil headless horseman marauds a tiny village in upstate New York. Ichabod Crane (Depp) is sent to investigate.
Of course, something wicked this way comes, and a plot is uncovered — the details of which I'm still trying to get right in my head — but which involve just about every inbred member of this little town, most of whom are beheaded during the picture.
Depp nearly reprises his role as Edward Scissorhands as a quiet wallflower (sans scissors), and whiter-than-white Christina Ricci (as the magic-obsessed love interest) sticks out among the drab fogies in their powdered wigs like Bill Gates at the Playboy Mansion. The supporting cast is uniformly bland, just like the scenery (though the latter is intentional). The sole exception is Walken, who plays the horseman (when he has his head, at least) with typical aplomb.
So what's the sum of the parts? What should have been a Halloween treat is instead a late-November humdrum flick worthy of a glance but little more. The story is obtuse yet unsurprising. The humor is sparse and occasionally funny. And while Burton's signature is all over the film, his typical wit is not.
How will the film fare at the box office? I can't rightly say, but I do know that a legion of junior high students is going to be disappointed, missing a whole lot of questions on their English Lit exams because of this movie.
Studio heads will roll.
Portions from Freebase, licensed under CC-BY and Wikipedia licensed under the GFDL