Description
[from Freebase]
Runaway Bride is a 1999 American romantic comedy film starring Julia Roberts and Richard Gere and directed by Garry Marshall. The screenplay was written by Josann McGibbon, Audrey Wells and Sara Parriott. Maggie Carpenter (Julia Roberts) is a spirited and attractive young woman who has had a number of unsuccessful relationships. Maggie, nervous of being married, has left a trail of fiances. It seems, she's left three men waiting for her at the altar on their wedding day (all of which are caught on tape), receiving tabloid fame and the dubious nickname "The Runaway Bride". Meanwhile, in New York, reporter Homer Eisenhower Graham or "Ike" (Richard Gere), writes a column about her that contains several factual errors, supplied to him by one of Maggie's jilted exes for revenge. He's fired for not verifying his source and then decides to write an in-depth article about Maggie in a bid to get his job back. He travels to Hale, Maryland, where he finds her living with her family and on her fourth attempt to become married. The fourth groom-to-be, Bob Kelly (Christopher Meloni), a football coach at the local high school who treats Maggie like one of the players on his sports team.
Review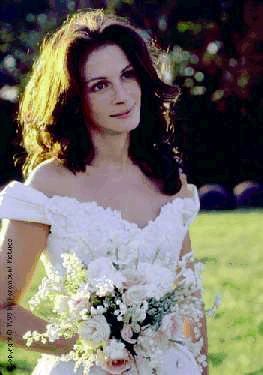 Julia Roberts has made a career out of being one of Hollywood's most irresistible glamour dolls. Dress her up in any role and she'll flash that wide smile, deliver her awkward laugh, and expose a peculiar giddiness, which gives her a sense of vulnerability that fans have come to adore. Ever since the Cinderella story Pretty Woman ten years ago that catapulted her career to mega-stardom, her roles have all been typecast around her good looks and charismatic personality (Steel Magnolias and My Best Friend's Wedding). Runaway Bride is no exception to the rule. However, as the old saying goes; if it ain't broke, don't fix it.
Runaway Bride brings writer Garry Marshall back together with Roberts, Richard Gere, and memorable Pretty Woman costar Hector Elizondo for another unlikely love story.
Gere plays Ike Graham, a USA Today columnist known as 'the last minute man' who is famous for his verbal diatribes towards women. Once again desperate for another story with less than two hours before deadline, a drinking buddy tells him about a girl in Hale, Maryland who has left seven grooms at the altar with an eighth victim soon to follow. Intrigued, Graham writes an article lambasting Maggie Carpenter (Julia Roberts) for her 'man eating' ways. When Carpenter reads the piece, she promptly writes a letter to Ike's editor and ex-wife Elie, (Rita Wilson) claiming the article is slanderous (she's left only three men at the altar). When the paper's lawyers find that the errors are 'actionable' Ike is immediately fired and an apology is written. However, Ike's co-worker and friend Fisher, (Hector Elizondo) offers him a chance at vindication if he goes to Hale and she 'runs' from the altar again. His story would then be true in theory and he would have front-page news.
Together Roberts and Gere bring back a touch of the Pretty Woman chemistry and Marshall manages to forge a somewhat believable story line out of an outlandish plot. The movie carries a strong supporting cast featuring Joan Cusak as Maggie's best friend, Paul Dooley as Maggie's alcoholic father, and most memorably Christopher Meloni as Maggie's fiancée and possibly the fourth victim. If you are a Julia Roberts fan then you're in for a treat because you know what to expect and Gere shows some versatility portraying an affable reporter with a good sense of humor.
I found the film ran long and that small town life in Hale, Maryland was a little too Hollywood, rekindling frightful memories of Leave It to Beaver and The Nelsons. This is one to be enjoyed aesthetically for a few laughs and a cute love story. It's not groundbreaking like Pretty Woman, so don't expect too much.
Overall I found it enjoyable, definitely a good date movie.
Here comes the Bride.
Portions from Freebase, licensed under CC-BY and Wikipedia licensed under the GFDL