What Dreams May Come (1998)
Description
[from Freebase]
What Dreams May Come is a 1998 American supernatural drama film, starring Robin Williams, Cuba Gooding, Jr., and Annabella Sciorra. The film is based on the 1978 novel of the same name by Richard Matheson, and was directed by Vincent Ward. The title is taken from a line in Hamlet's To be, or not to be soliloquy. While vacationing in Switzerland, Dr. Christopher "Chris" Nielsen (Robin Williams) accidentally meets artist Annie Collins (Annabella Sciorra), with whom he has an instant connection. They marry and have two children: Ian (Josh Paddock) and Marie (Jessica Brooks Grant). Their idyllic life comes to an end when the children die in a car crash, and while things are at first very difficult with Annie mentally breaking down and the risk of divorce hanging over their heads, they manage to pull through. However, on the anniversary of the day they decided not to divorce, Chris is involved in a car accident that kills him. Initially confused as to why nobody can interact with him, Chris lingers on Earth, watching Annie cope with the loss and attempting to communicate with her, until he understands how this harms her, and he decides to move on.
Review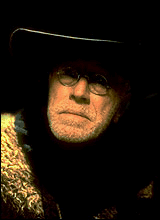 It's a long, slow, pretty dull ride through Robin Williams' afterlife… you woulda thought it would have some toys or bouncing green goo or talking animals or something… but no, this is Serious Robin, and in a movie that features 3 accidental deaths and one suicide, I guess you can't have nothin' but laughs. The effects are great, to be sure, but it's surprisingly repetitious to see the same four or five scenes replicated over and over. I'd comment on how well-intentioned this movie seems, but, well, YOU know what they say about the road to hell…
Don't mess with The Tracker.
Portions from Freebase, licensed under CC-BY and Wikipedia licensed under the GFDL