Description
[from Freebase]
The Mask of Zorro is a 1998 American swashbuckler film based on the Zorro character created by Johnston McCulley. It was directed by Martin Campbell and stars Antonio Banderas, Anthony Hopkins, Catherine Zeta-Jones, and Stuart Wilson. In the story, the original Zorro (Hopkins) escapes from prison to find his long-lost daughter (Zeta-Jones) and avenge the death of his wife against the corrupt governor (Wilson). He is aided by his successor (Banderas), who also pursues his own vendetta. Producer Steven Spielberg had developed the film for TriStar Pictures with directors Mikael Salomon and Robert Rodriguez before Campbell signed on in 1996. Salomon cast Sean Connery as Don Diego de la Vega, while Rodriguez brought Banderas in the lead role. Connery dropped out and was replaced with Hopkins, and The Mask of Zorro began filming in January 1997 at Estudios Churubusco in Mexico City, Mexico. The film was released in the United States on July 17, 1998 with both financial and critical success. The Legend of Zorro, a sequel also starring Banderas, Zeta-Jones, and directed by Campbell, was released in 2005, but failed to receive the overall positive reception of its predecessor.
Review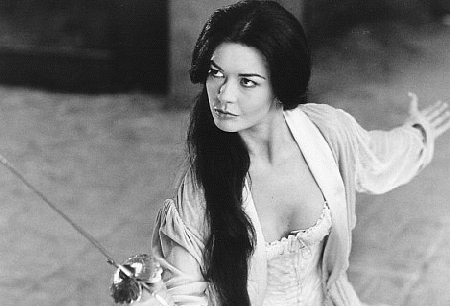 With all the recent rehashing of old movies and TV series, (anyone catch the new Tarzan movie?) you wouldn't be blamed if you didn't expect too much from this one. But on the bright side, this one does have Anthony Hopkins taking on an entirely new ethnicity, which is always interesting.
Hopkins's performance aside, The Mask of Zorro somehow managed to keep itself afloat despite steamrolling through almost every action movie cliche in the books. In retrospect, The Mask of Zorro never loses its freshness precisely because we are continually presented with new formations of the action movie spectacle in a genre we haven't seen much of in a while. Part Robin Hood, part disaster movie, part young warrior in training movie, another part Robin Hood, Zorro seems to take the most classical elements of all of these action genres and put them together in a way that we know we've seen it all before, yet still enjoy the ride.
None of this is to say that The Mask of Zorro is a film masterpiece. Despite a strong performance by the hit-and-miss Antonio Banderas and an enchanting turn by Catherine Zeta-Jones as the princess/noble woman/whatever with a heart of gold, this film subjugates emotion to action. So don't expect to be swashbuckling out of the theater.
A new DVD ofers commentary track, deleted scenes, and a making-of documentary. The new Deluxe Edition adds a sneak peek at the follow-up The Legend of Zorro.
She's all ready to play.
Portions from Freebase, licensed under CC-BY and Wikipedia licensed under the GFDL