How Stella Got Her Groove Back (1998)
Description
[from Freebase]
How Stella Got Her Groove Back is a 1998 romance film, directed by Kevin Rodney Sullivan, adapted from Terry McMillan's bestselling novel of the same title. The film stars Angela Bassett, Taye Diggs, Whoopi Goldberg and Regina King. The original music score was composed by Michel Colombier. Stella (Angela Bassett) is a very successful, 40-year-old stock broker raising her son and living in Marin County, California, who is persuaded by her New York friend Delilah (Whoopi Goldberg) to take a well-deserved, first-class vacation to Montego Bay, Jamaica. As she soaks in the beauty of the island, she encounters a strapping young islander, Winston Shakespeare (Taye Diggs), who is 20 years younger (20 years old). His pursuits for her turn into a hot and steamy romance that forces Stella to take personal inventory of her life and try to find a balance between her desire for love and companionship, and the responsibilities of mother and corporate executive. The reception from critics was mixed. The movie grossed $11 million in 3 days. A soundtrack containing mostly R and reggae music was released on August 11, 1998 by MCA Records.
Review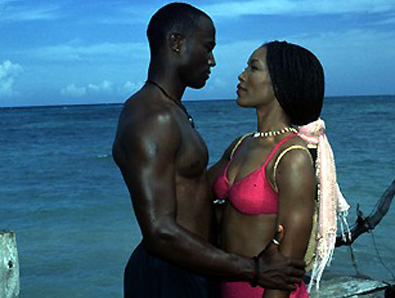 Perhaps the most potent female wish-fulfillment flick of the '90s, How Stella Got Her Groove Back drops interesting and well-played characters into highly improbable situations, with decidedly mixed results. The premise — a burned-out fortysomething woman reignites her fire by bedding a muscle stud half her age — is promising enough, but events unfold in increasingly unbelievable ways, leaving viewers with no choice but simply to throw up their hands, go along for the ride, and hope for as many shower scenes as possible.
A powerful Bay Area financial executive with a son, Stella Payne (Angela Bassett) is rich, gorgeous, and thin. But that's not enough. She needs a man. Egged on by her wisecracking best friend Delilah (Whoopi Goldberg, in the Eve Arden role), the two take off for a Jamaican vacation at a resort where things get decidedly steamy once the sun goes down. When the dance music starts playing, the clothes come off for some near orgiastic disco dancing. (Which resort is this, by the way?)
Stella immediately connects with the very young and improbably named Winston Shakespeare (Taye Diggs), a 20-year-old god among men who turns on the flirt and has little trouble bedding the needy woman. The morning after, she feels reborn. My, how she glows. You would too with a taste of Winston's expert technique. Before long, Stella is begging Winston to accompany her back home, where she will try to set him up at medical school. Amazingly enough, he agrees, but not before Stella is forced to 'meet the parents' and basically be called a cradle-robbing whore to her face. It's an uncomfortable moment, and not wholly credible. It's hard to believe that of all the young men Stella could have met, she happens to trip over the son of a surgeon, one of the wealthiest and best-educated guys in the poverty-stricken country.
Back home in California, Winston bonds easily with Stella's son Quincy (Michael J. Pagan) but seems more interested in puttering around the house and playing video games than pursuing his career. When Stella loses her job, new tensions arise around money and relationship power plays, and Stella is suddenly wondering, 'Why is this Jamaican boy in my house?'
The overarching problem here is no matter how willing you are to suspend your disbelief, you won't buy that a put-together woman like Stella would so easily decide to throw caution to the wind and upend her life for Winston, even if his moves in the shower are undeniably compelling. Bassett and Diggs are fine in their roles, but you'll find yourself saying, 'C'mon now, Stella, really?' more than once. Ladies, you can have this one. Me and the guys'll be in the den watching football.
She left her groove in San Francisco.
Portions from Freebase, licensed under CC-BY and Wikipedia licensed under the GFDL