Description

Nuclear testing in the South Pacific produces a giant mutated lizard that wreaks havoc upon New York City.
Directed/Produced by:
Roland Emmerich
Dean Devlin
Roland Emmerich
Dean Devlin
Roland Emmerich
Ute Emmerich
William Fay
Kelly Van Horn
Peter Winther
David Arnold
Ueli Steiger
Peter Amundson
David Siegel
David Bloch
April Webster
Paula Rosenberg
Oliver Scholl
Oana Bogdan
William Ladd Skinner
Robert Woodruff
Cast:
Matthew Broderick
Jean Reno
Maria Pitillo
Hank Azaria
Kevin Dunn
Michael Lerner
Harry Shearer
Arabella Field
Vicki Lewis
Doug Savant
Malcolm Danare
Lorry Goldman
Review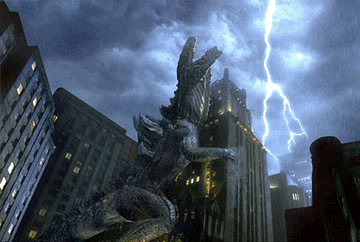 The sad thing about this Godzilla pic is that the credits don't mention an actor playing the monster so you have to say the movie stars Matthew Broderick, Jean Reno, Maria Pitillo, Hank Azaria and Kevin Dunn instead of a man dressed as a really big lizard. Godzilla's 1998 version, which will forever be remembered as the first one not to feature a Japanese extra mouthing 16 words when all you hear is 'Look: Godzilla!', is a film that earns the same notoriety that all of the other movies in the pantheon do: It's incredibly dumb and inexplicably enjoyable, especially when the monster stomps New York. Since Godzilla has always had a cult following, and since the cult following has always talked about how Godzilla can be viewed as an allegory of post-World-War-II Japanese history, you can view this American Godzilla in the following frame of mind: Godzilla represents the final step of post-war Japan to saddle us with a byproduct of American nuclear waste. The Japanese have gotten beyond the point where Godzilla is their protector. They have made Godzilla their Tiger games: A cheap, exportable product that will attempt to turn a profit in the U.S.