Description
[from Freebase]
Conspiracy Theory is a 1997 American action thriller film directed by Richard Donner. The original screenplay by Brian Helgeland centers on an eccentric taxi driver (Mel Gibson) who believes many world events are triggered by government conspiracies, and the U.S. Justice Department attorney (Julia Roberts) who becomes involved in his life. The movie was a financial success, but critical reviews were mixed. Jerry Fletcher (Mel Gibson), an obsessive–compulsive New York City taxi driver who lectures his passengers on various conspiracy theories, visits his friend Alice Sutton (Julia Roberts), who works for the U.S. Attorney, at the Justice Department. She is trying to solve her father's murder. Jerry tells her that NASA is trying to kill the President using a secret weapon on the Space Shuttle that can trigger earthquakes. Jerry identifies some men on the street as CIA, follows them into a building, and is captured by them. He wakes up in a mental hospital bound to a wheelchair. A doctor (Patrick Stewart) tapes his eyes open, injects him with a drug (LSD), and interrogates him using torture.
Review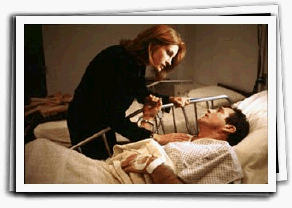 Hitting theaters shortly, with surprisingly little fanfare, is Conspiracy Theory, a very long and very scattered production which introduces the never-before-used plotline that the government is full of bad guys.
I was intrigued at first: as the ads tout, a conspiracy nut (Mel Gibson) suddenly learns one of his theories is true, and everyone's out to get him. And in the process, he has to protect a redhead (Julia Roberts). That would normally be enough for me, but without spoiling the movie for you, that just ain't what the movie is about.
While the central plot twist turns out to be pretty shocking, it can't make up for the sad reality that Theory has an appalling script — and most notably that the dialogue is totally ridiculous. The film's cinematography is painful to watch, and Gibson, who would seem perfect for the nutcase role given his Lethal Weapon roots, comes off as silly and pathetic. Clocking in at well over two hours, Theory quickly earns a place on the too-much-of-a-bad-thing wall. In the end, the movie makes enough sense, but it leaves so many loose ends dangling that it's hard to care.
Oh well, I guess a Julia Roberts fetish can't overcome a crummy script and bad production values after all.
Julia prepares to smother Mel with a pillow. Say g'night, mate.
Portions from Freebase, licensed under CC-BY and Wikipedia licensed under the GFDL