Description
[from Freebase]
Chasing Amy is a 1997 romantic comedy film written and directed by Kevin Smith. The central tension revolves around sexuality, sexual history, and evolving friendships. It is the third film in Smith's View Askewniverse series. The film contains explicit sexual dialogue, and was originally inspired by a brief scene from an early movie by a friend of Smith's. In Guinevere Turner's Go Fish, one of the lesbian characters imagines her friends passing judgment on her for "selling out" by sleeping with a man. Kevin Smith was dating star Joey Lauren Adams at the time he was writing the script, which was also partly inspired by her. The film won two awards at the 1998 Independent Spirit Awards (Best Screenplay for Smith and Best Supporting Actor for Jason Lee). Holden McNeil (Ben Affleck) and Banky Edwards (Jason Lee) are comic book artists and lifelong friends. Holden is the calmer, more reasonable of the duo; Banky, meanwhile, is the caustic and short-tempered half. Everything is going well for them until they meet Alyssa Jones (Joey Lauren Adams) at a comic book convention in New York where they are promoting their comic Bluntman and Chronic.
Review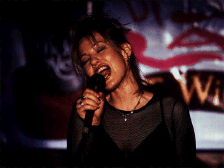 The intro sequence of Chasing Amy, comic book frames of oddly familiar characters, informs us immediately that we are entering the world of Kevin Smith. That world is one over-populated with comic book fanatics, philosophical drug dealers, and ambitionless twenty-somethings. To Smith, the film's director, that world is New Jersey.
Like characters found in other recent Gen X movies, Smith's heroes are unjustifiably hip. Chasing Amy there are two groups of characters, Jersey boys afraid of the city, and fixtures of the NYC underground. But regardless of background, every character in Chasing Amy is poised with a witty remark or comical/philosophical riff on love or life. Smith even highlights the (self)-importance of his protagonist, played by Ben Affleck, by unabashedly naming him after the coolest literary character of the twentieth century, Holden Caulfield.
Going well beyond other Gen X movies such as Swingers and Reality Bites, Chasing Amy embraces the new generation with an unparalleled frankness. Although this boy-meets-lesbian love story is more mature than Smith's earlier work, its never before seen subject matter is indicative of Smith's predilection for ignoring the taboos of film. Frank discussions of sex and perversion are common in Smith's world of wordy, quick-paced diatribes long on profanity. Smith tackles this material with characters and situations that come across, despite their wit, as strikingly awkward and realistic. They never have the perfect line to describe their emotions or what they want. Their attempts to riff on their problems en route to solving them display a realistic ineptitude in dealing with serious problems. Either the characters have too much to say or nothing at all, but in all cases the outcome of these slipshod attempts is bad. Although the intermittent stupidity and vulgarity of Smith's characters is sometimes painful to watch, the film's refreshing realism is an invaluable experience.
Despite this powerful subtext, Smith's world is not devoid of humor. Though self-absorbed, all of Smith's characters are quite amusing, and the plot development, camera work, and editing in Chasing Amy capitalize on the humor in every situation. In one instance, an atypical riff on sexual acts leads to a fierce comparison of sex wounds and a game of one-upmanship that riotously parodies such battle scar comparisons from Lethal Weapon and the adventure film genre. Smith's hand-held camera and static long takes also serve to focus action within the frame and on the borders, which he uses for comical and emotional effect.
In all cases, Smith's awkward situations, for both the characters and audience, play off of traditional film structure in which everything fits together seamlessly. In Smith's world, you can count on only one thing: when Silent Bob (played by Smith himself) finally speaks (and he will) he is going to say something profound.
Not Selena.
Portions from Freebase, licensed under CC-BY and Wikipedia licensed under the GFDL