Alien Resurrection (1997)
Description
[from Freebase]
Alien Resurrection is a science fiction film released in 1997 by 20th Century Fox and the fourth installment in the Alien franchise. Directed by French filmmaker Jean-Pierre Jeunet, the film is based on a screenplay by Joss Whedon. With a budget of $70 million, Alien Resurrection was the first film in the Alien series to be filmed outside of England, at Fox studios in Los Angeles, California. In the film, which is set 200 years after the preceding installment Alien 3, Ellen Ripley (Sigourney Weaver) is cloned and an Alien queen is surgically removed from her body. The United Systems Military hopes to breed Aliens to study and research on the spaceship USM Auriga, using human hosts kidnapped and delivered to them by a group of mercenaries. The Aliens escape their enclosures, while Ripley and the mercenaries attempt to escape and destroy the Auriga before it reaches its destination, Earth. Alien Resurrection was released on November 26, 1997 and received mixed reviews from film critics.
Review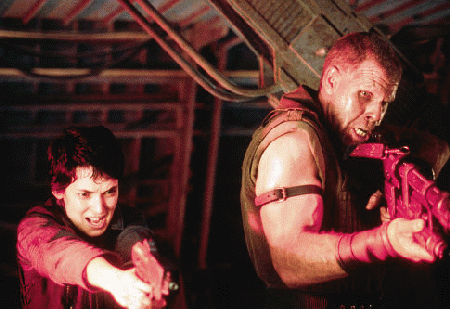 I'm not entirely sure how to begin a review of the highly-anticipated (at least for me) fourth installment of the Alien series except to say… what a letdown.
Sigourney Weaver's Ellen Ripley died in Alien, the movie that was supposed to put the nail in the Alien coffin, but thanks to the miracles of next-millennium cloning, she's back, and full of alien DNA to boot (thus making her invincible, giving her acid for blood, and generally a pretty creepy chick). This new twist has great potential, as Ripley's alien side gives her a strange kinship with the creatures… creatures that once again are loosed by idiot scientists trying to tame them.
But in the end, the desire to spill more Blood! Blood! Blood! (and alien goo) wins out over plot and thematics. Instead, the picture progresses like a sorry rehash of the first three movies. Two hours later, I left depressed.
Director Jean-Pierre Jeunet, who made the masterful Delicatessen, has plenty of fun with creepy set design, creatures galore, clever photography, and propelled mucous, but other than that, Alien 4 has little to recommend. Even Winona Ryder as a reluctant comrade is a real disappointment.
In a crowded theater, everyone can hear you groan.
The special edition version of the film adds little more than a few minutes of extra footage to the film. The original script by Joss Whedon (before he was big!) is one of the notable extras on the DVD, which includes making-of featurettes and rehearsal footage.
The Alien Quadrilogy includes a total of nine disks: all four Alien films, each with a separate disk of extras, and an additional bonus disk complete with a Q&A with Ridley Scott, a UK documentary on Alien, original theatrical trailers to all four films, a DVD-ROM 'script to screen' comparison feature, an anthology of 11 issues of the Dark Horse Alien comics, and more. These materials will give you a whole new appreciation for the Alien films.
Die, bitch!
Portions from Freebase, licensed under CC-BY and Wikipedia licensed under the GFDL